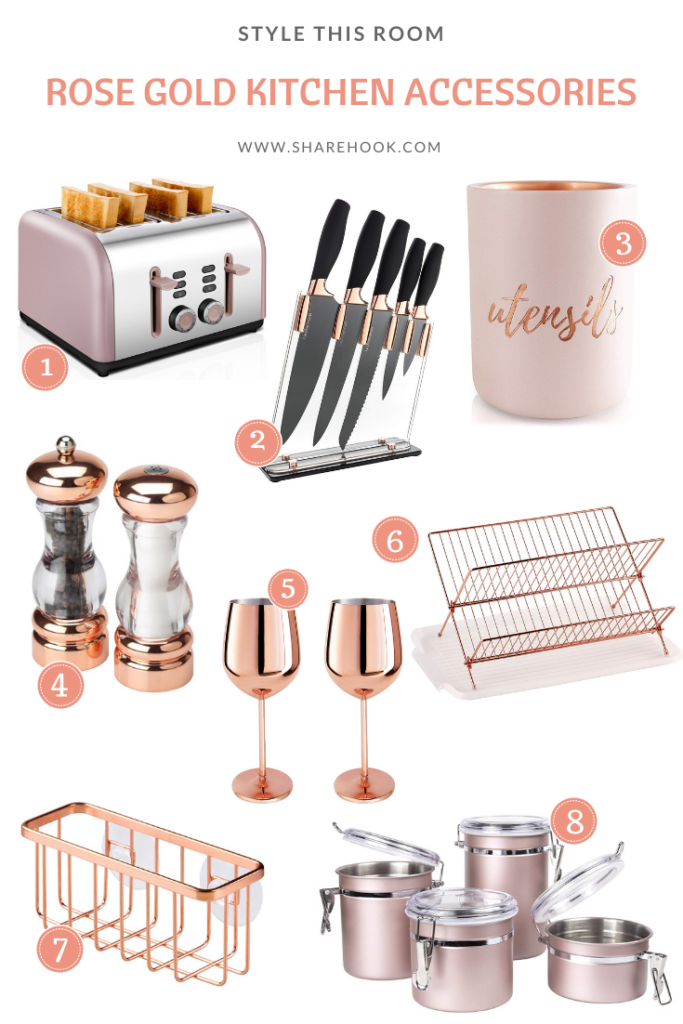 2 Slice Toaster with Rose Gold Accents
This toaster from Oster looks so good that you wish you could eat it too. It can toast 2 slice of bread each time, and comes with 9 different shade setting so you can experiment till you get the perfect shade of toast you desire.
---
5 Pieces Rose Gold Knives with Knife Block
You can never have too many knifes in the kitchen. For those who cook long enough, you would know that you need different knifes for different purposes. This knife set comes with 5 pieces of knives with its individual holder on a knife block.
---
Rose Gold Cement Utensil Holder
Keeping kitchen organised is an everyday task. Having utensil holders are incredibly useful to keep different utensils all in one place. This rose gold cement utensil holder comes with rubber bases to prevent it from toppling and looks amazing while holder up your many utensils.
---
Rose Gold Plated-Pepper Mill & Salt Shaker Set
Salt and pepper shaker set are probably the staple kitchen accessories in many of your kitchen. If you are looking to look more professional, a grinder set would give you that vibe. This rose gold plated salt and pepper shaker set allows you to grind your pepper and salt at different settings.
---
Stainless Steel Wine Glasses, Rose Gold
Having a drink or two with some cheese platter after a long day is a perfect night. This rose gold wine glass are made of stainless steel, and helps to keep the drink cold while you chat about your day with your loved ones. It helps that it is opaque, and hides the amount of alcohol you are drinking from them.
---
Chrome-Plated Steel Foldable 2-Tier Dish Drainer
Dish drainers are always either very clunky or very boring. We cannot say the same for this foldable X-shaped dish drainer. It comes in a very trendy rose gold coating that is nice to look at. It also comes with a drainboard to easily drain out water.
---
Rose Gold Kitchen Suction Holder
The small details matter. This rose gold kitchen suction holder is great to attach to the side of your kitchen sink to hold kitchen sponge. The attached suction cup is easy to attach to any flat surface and the streamlined design makes it easy to clean.
---
4-Piece Stainless Steel Canister, Rose Gold
These stainless steel canisters comes with airtight lids, which are great to store both dried products and leftovers without worries that the food will spoil. This set comes in 4 different sizes for different purposes based on your preferences.
---
More rose gold kitchen accessories designs:
Or check out our masterpost for other styling inspirations!