Turkey? Done. Mulled wine? Made. Christmas cake? Baked. After a hectic week of preparing all dishes for your Christmas feast, the last thing you need to have is a beautiful dinner setup that will make your food exceptionally delicious. One of the contributing factor is definitely the Christmas tablecloth. A good Christmas tablecloth will tie up the food and Christmas spirit together, and you would want to put some thoughts into it.
Whether you are looking for a very festive Christmas tablecloth or an elegant and subtle Christmas tablecloth, the below list will have you covered.
---
Fitable Snowflake Christmas Tablecloth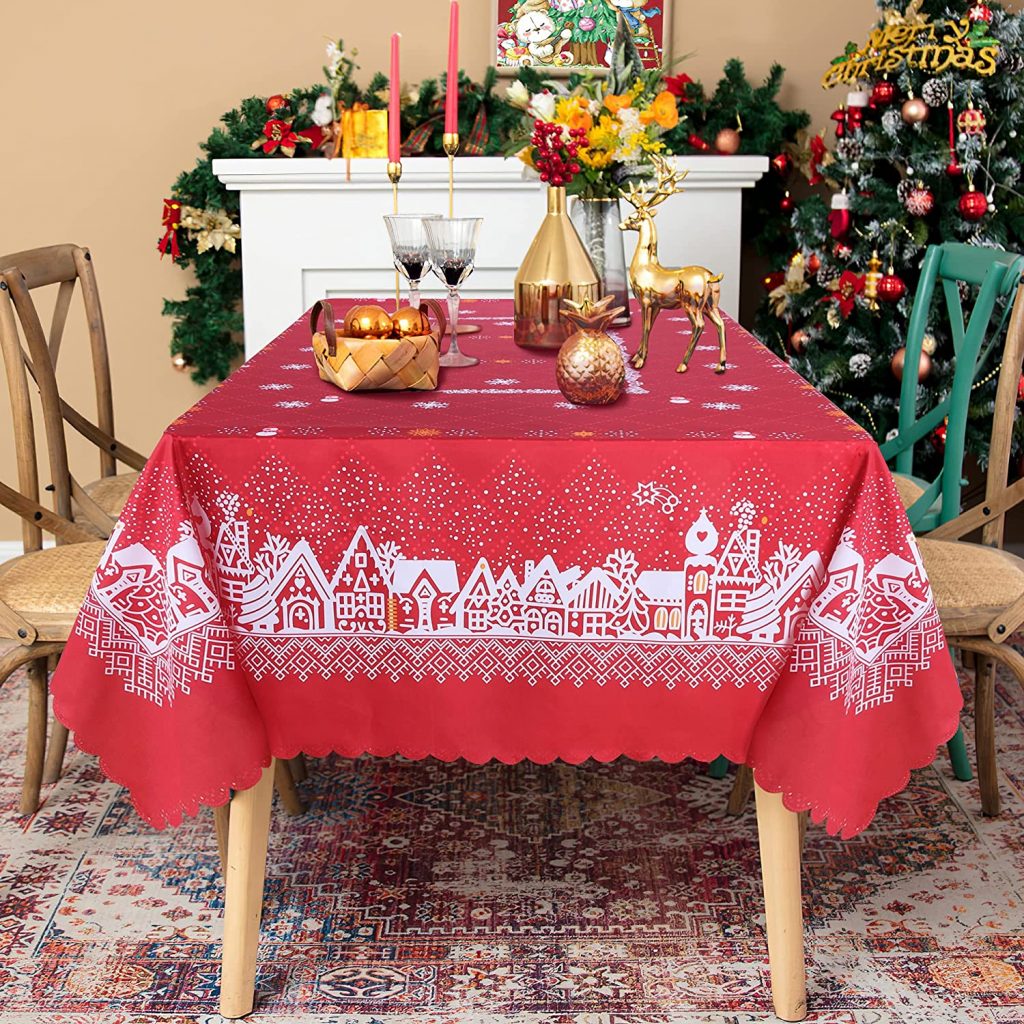 Nothing screams Christmas like a beautiful shade of red Christmas tablecloth. This Christmas tablecloth by Fitable comes decorated with tiny snowflakes and snow houses and looks exceptionally beautiful against your Christmas feast.
They can be used for tables of almost all sizes – square, long, and even round tables. As this Christmas tablecloth is made of fabric, with polyester composition, you can simply throw it into the washing machine when you are done with it.
---
Benson Mills Snowman Printed Fabric Tablecloth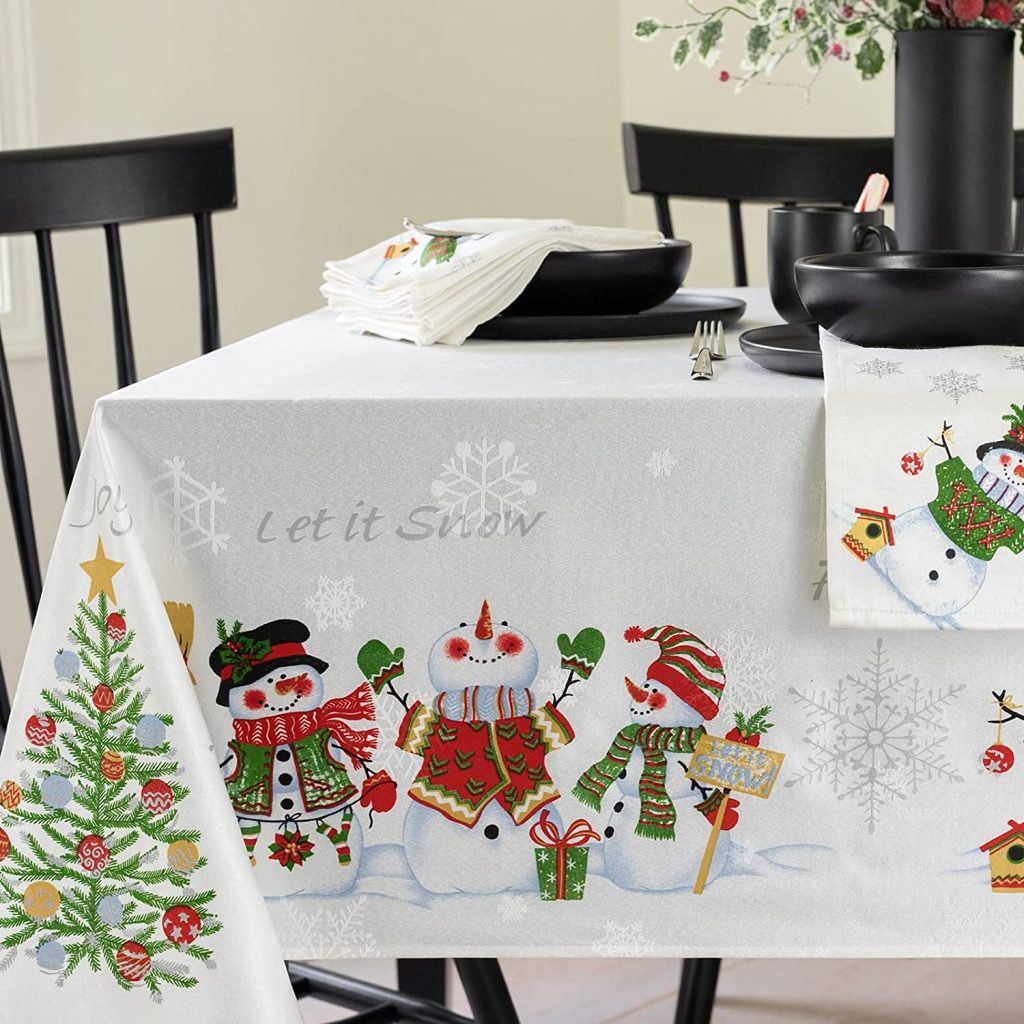 White tablecloth makes color pops and this Snowman printed fabric tablecloth by Benson Mills will accentuate the Christmas dinner and make them extra appealing. It comes in a printed pattern of festive and adorable groups of snowmen that make cute faces.
This Christmas tablecloth comes in 3 different rectangle sizes and looks amazing on long tables. You can get stains out easily of this tablecloth by throwing them into the washer to clean.
---
Joybest Jacquard Elegance Leaf Pattern Table Cloth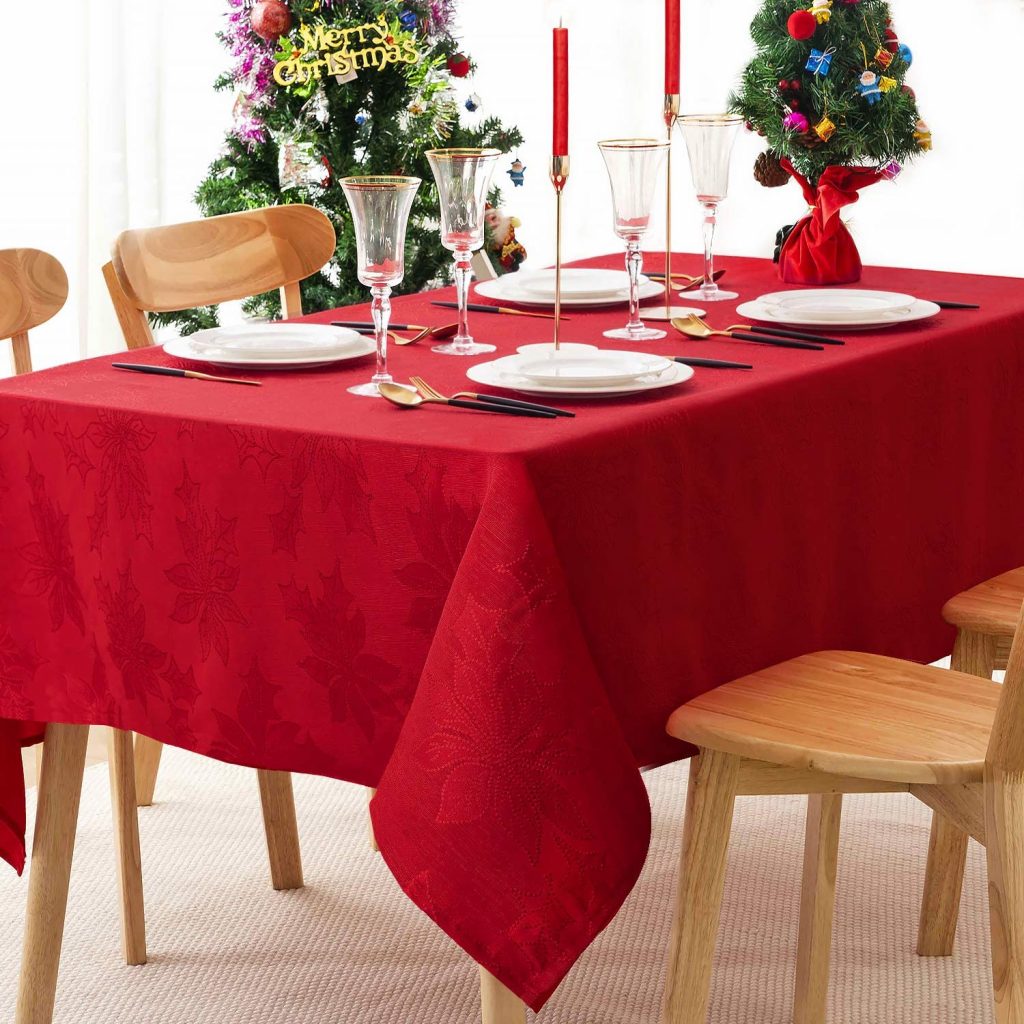 For a more elegant setting, this Christmas tablecloth by Joybest will do the trick. It comes in a lovely shade of red, sprinkled with embroidered leaf patterns. Classy but not too fanciful, they are great for a Christmas wine party, or for an intimate Christmas dinner with your loved ones.
They do not look extremely festive, and you can also leave them on your dining table throughout the year, instead of only using them once during Christmas and archiving them for the rest of the year.
---
Benson Mills Yarn Dyed Jacquard Fabric Tablecloth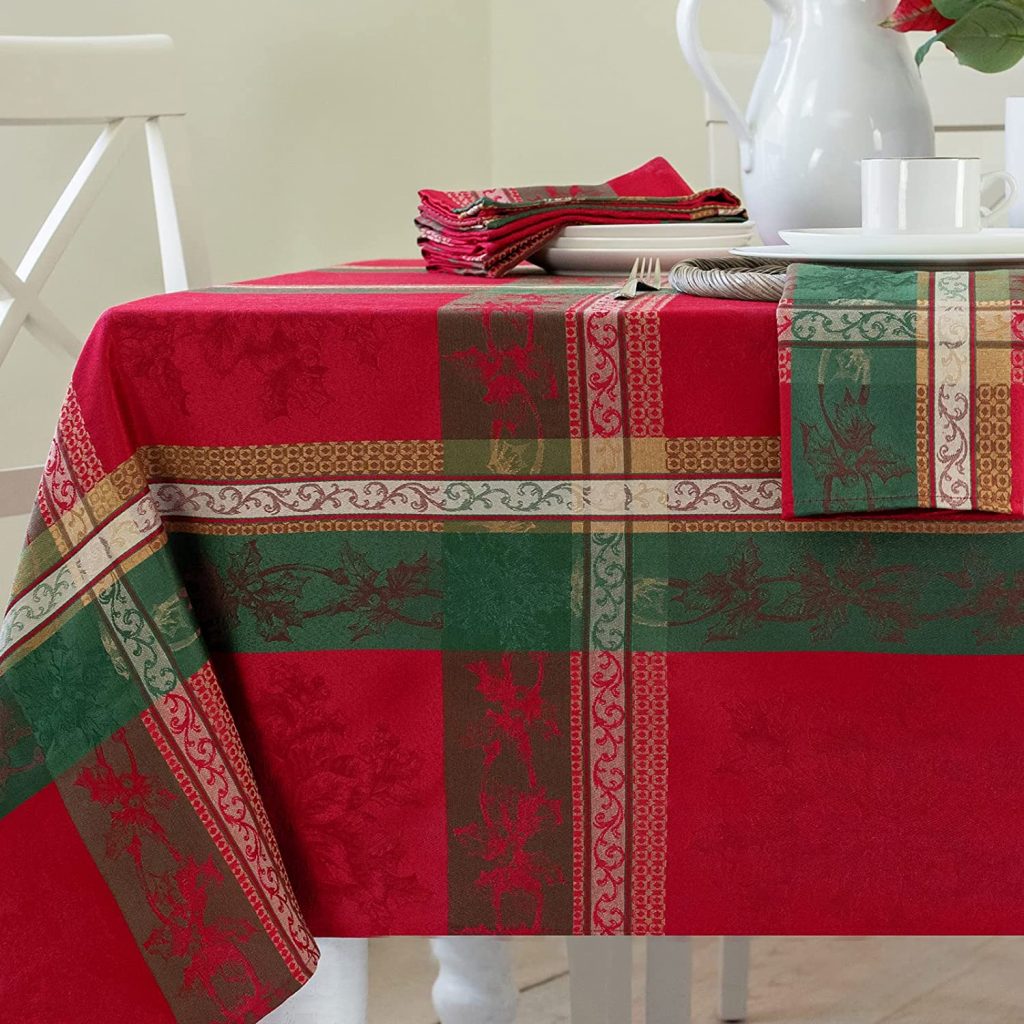 This Christmas tablecloth comes in a beautiful red and green Christmas plaid that is inspired by Christmas wrappers. The colors are especially vibrant and it looks luxurious, but not fanciful, and are amazing to look at.
They will look best if you iron all the crinkles, and they look straight and neat. They also come in multiple sizes to choose from and they even have matching napkins to go with them.
---
Maxmill Christmas Deer Printed Tablecloth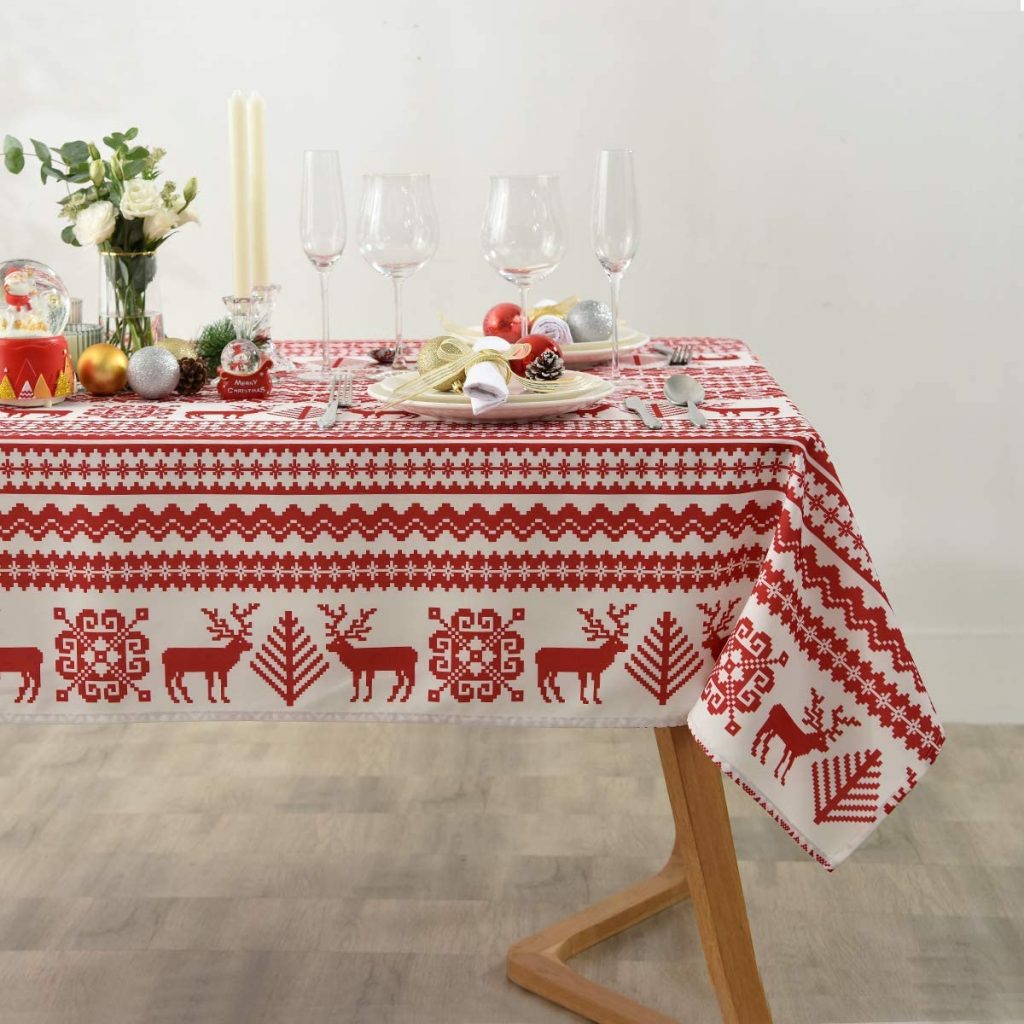 This is one of the most adorable Christmas tablecloths I've ever seen. It looks like a Christmas sweater or a Christmas print enlarged to a tablecloth and it feels extremely cozy.
As it is made of heavyweight polyester fabric, it is spill-proof, water and oil resistant, and wrinkle-resistant. This makes for easy cleanup after your Christmas dinner and you can easily pack them away for future uses.
---
Maison d' Hermine Deer in The Woods 100% Cotton Tablecloth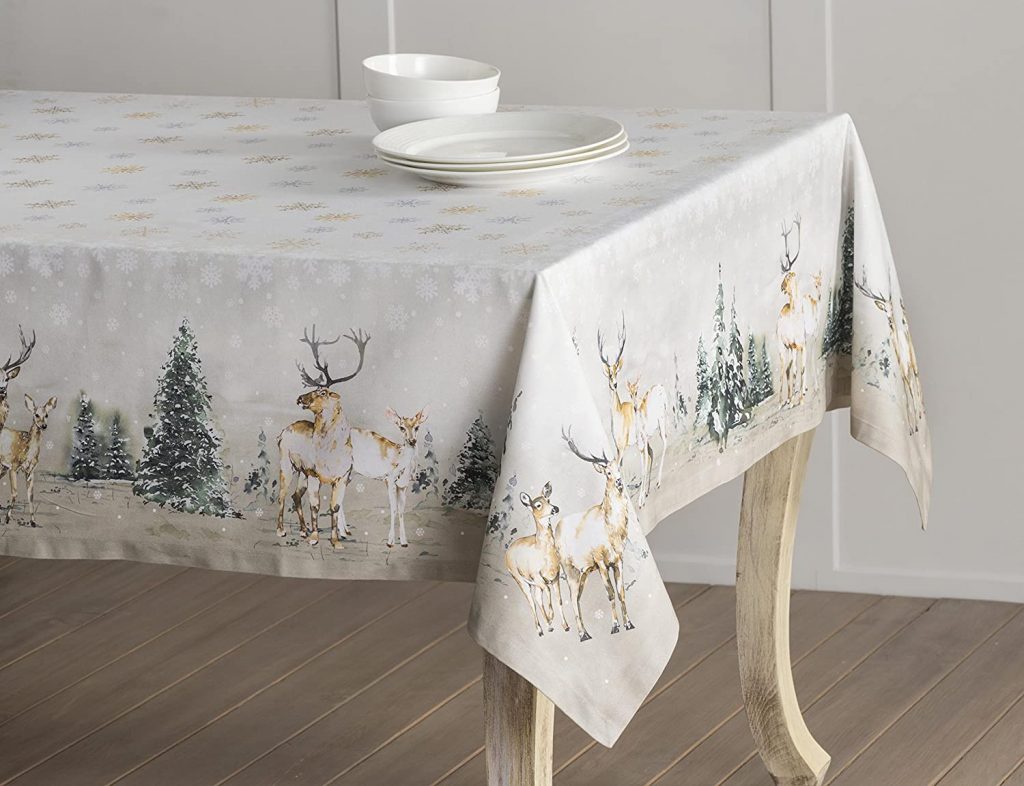 This holiday tablecloth by Maison d' Hermine is whimsical and magical. Taking inspiration from winter, this Christmas tablecloth features pine trees and reindeer, cold air, and a thick blanket of snow. You will really feel the winter vibes setting in with how realistic the prints look.
Made of 100% cotton, this Christmas tablecloth is soft and charming, and you would be amazed at how cozy it will make your home feels.
---
Benson Mills Christmas Ribbons Tablecloth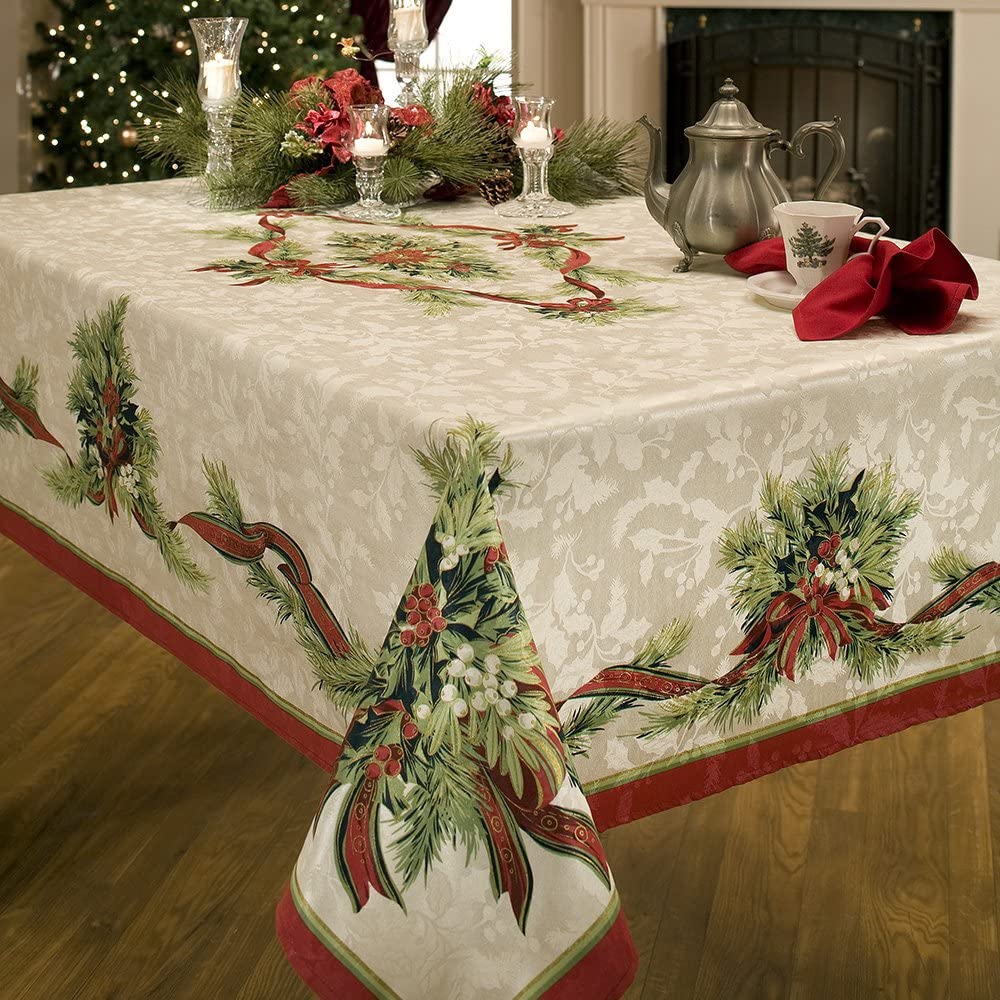 If you are looking for flair, you got it. This Christmas tablecloth is dramatic and vibrant, classy and everlasting. They look both classy as well as traditional and match easily with any interior Christmas decor that you have.
They are made of cotton and polyester and stains can be easily cleaned off with a washer after a heavy Christmas dinner.
---
Newbridge Fun Santa Christmas Tablecloth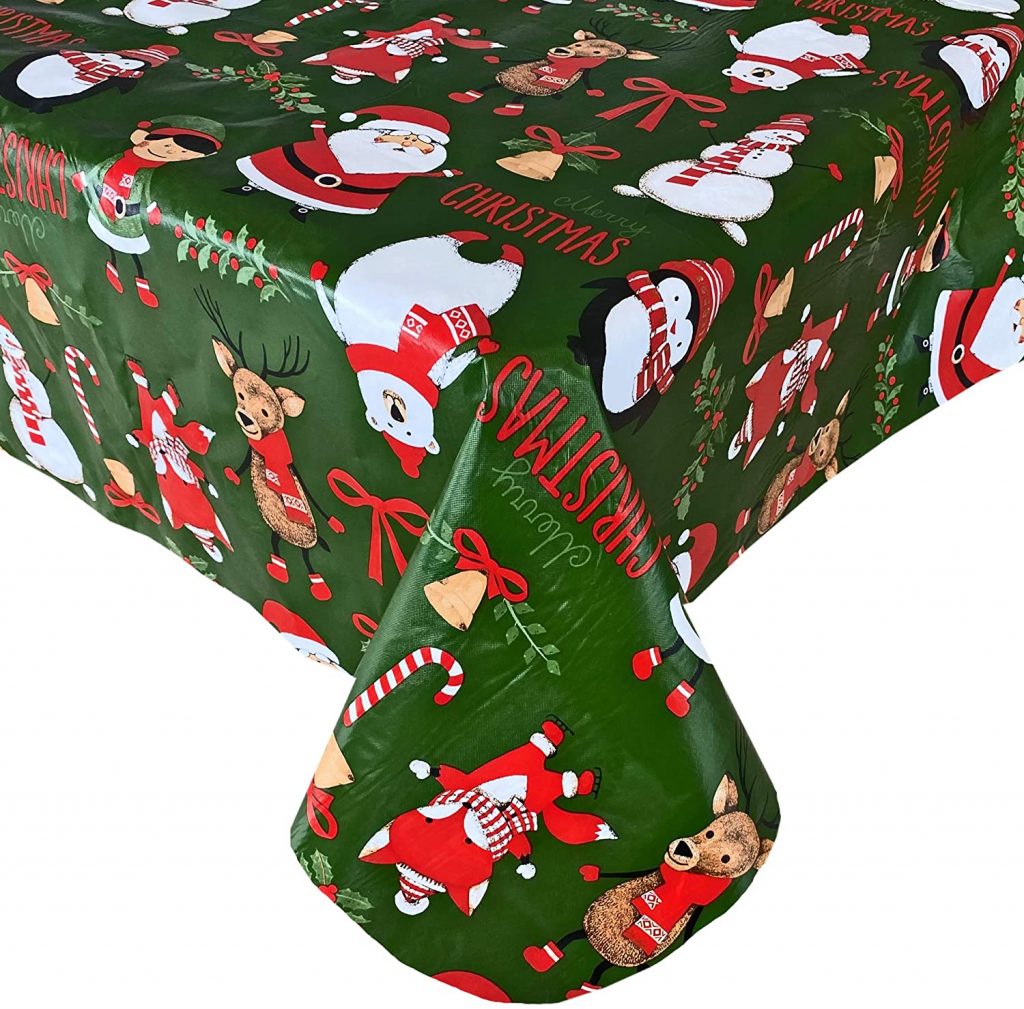 If you are expecting many children over for your Christmas dinner, you can use this cute Christmas tablecloth to gather their attention. It comes in a vibrant green decorated with cute Christmas characters that will draw their attention.
As it is made of vinyl, they are easy to wipe clean, and they are exceptionally great if you have a dedicated kids' table and you do not want to overly worry about spills and dropped food.
---
Newbridge Metallic Snowflake Christmas Tablecloth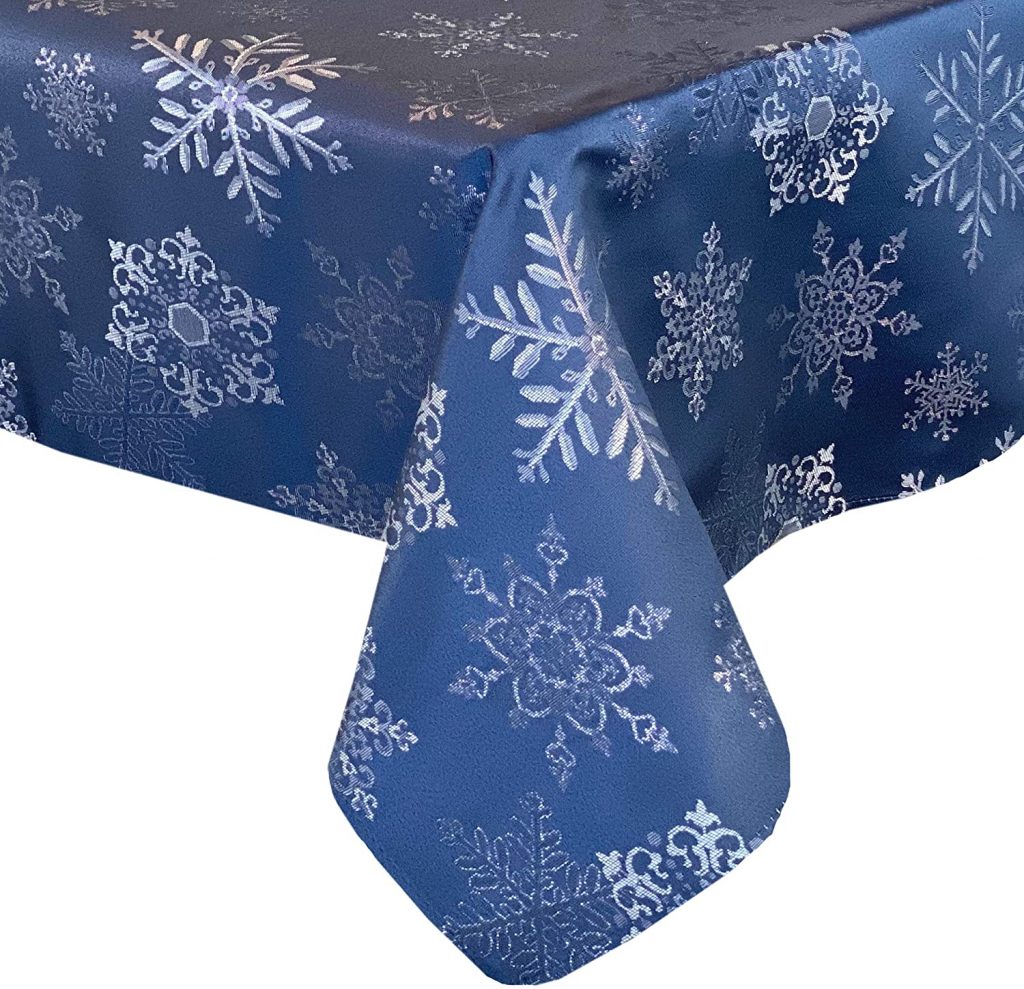 Blue Christmas tablecloth is not easy to find, but Newbridge has a lovely blue Christmas tablecloth that looks rich and grand, yet festive with snowflakes sprinkled over the tablecloth.
If you are having a blue blue Christmas, or a winter theme Christmas, this tablecloth will look amazing. It is also easy to clean and iron-resistant, so you can easily care for them after your Christmas dinner.
---
Grelucgo Embroidered Holiday Tree Tablecloth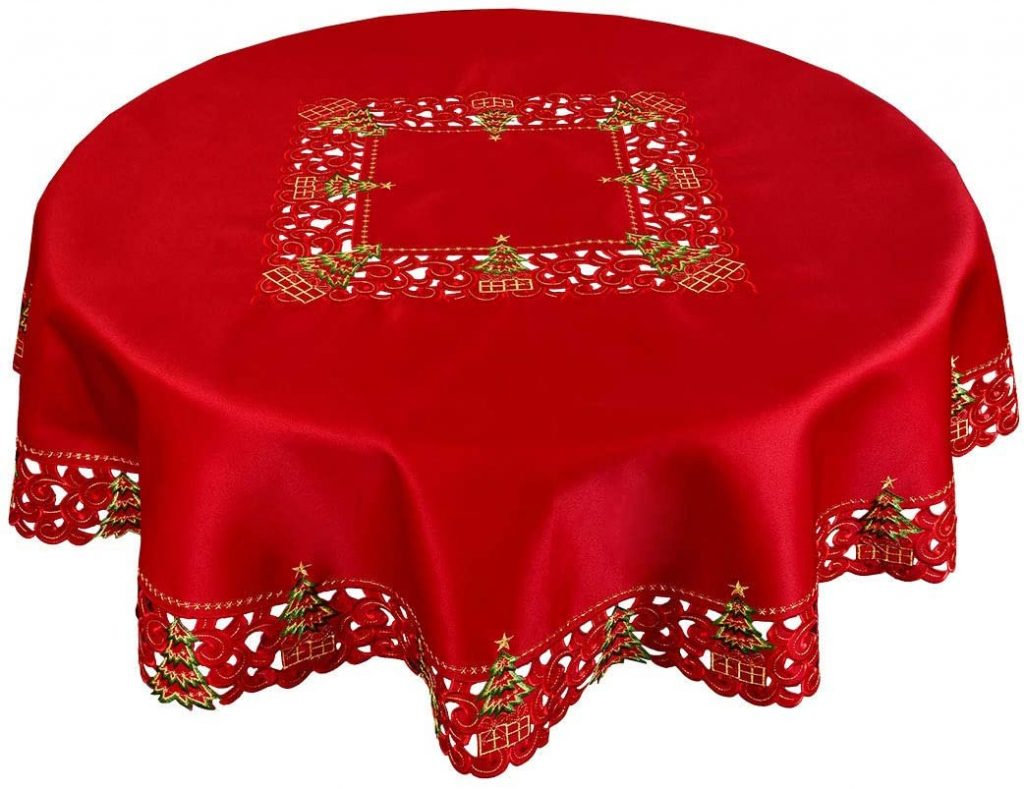 While many Christmas tablecloths come in sizes for both long tables and circle tables, they do not look especially outstanding for circular tables. Well, this does. This table cloth by Grelucgo looks amazing on a circular table with tiny little holiday trees embroidered at the edge of the tablecloth.
It comes in a lovely shade of red and looks extremely amazing if you have a Christmas centerpiece to feature. It is made of satin and looks extremely elegant.