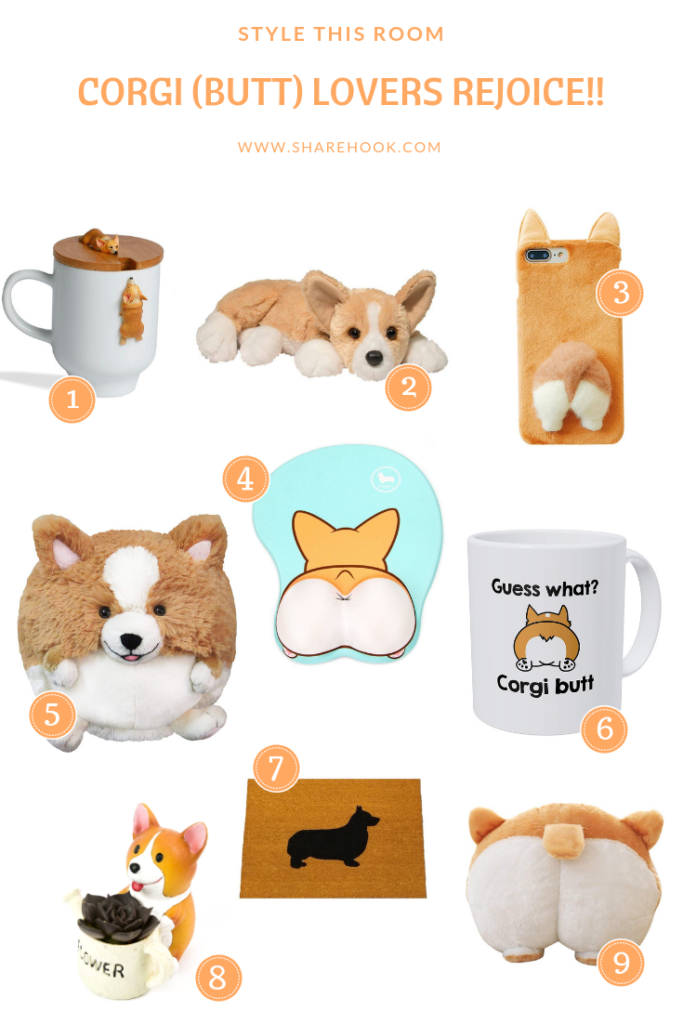 This mug is super adorable. It is made of ceramic and can hold hot beverages, though you should not microwave it as the glue holding the cute little corgi figurine will fall off. The corgi figurine is 3D in design, and the detailing are pretty neat, from the pinkish pointed ears down to its short little legs.
---
If you can't get a real corgi, perhaps a stuffed corgi toy would help ease the longing. This cute little corgi toy with the most innocent expression is called Rudy. It is soft throughout, and you need not worry about bumps if you get it for your young cousins, siblings, or kids.
---
The corgi butt at the back and corgi ears at the top of this iPhone casing is super cute. The entire surface of the cover is soft and comfortable, and it is easy to grip even with one hand.
---
This 3D mouse pad goes big on the emphasis of the corgi butt as it doubles up to function as a wrist support. The butt is really super soft and comfortable. You can use it either as an office mouse pad or a gaming mouse pad and rest your wrist on the butt to reduce the stress on the wrist and make your wrist more comfortable.
---
This corgi plush toy is great for cuddling or as a stress reliever. It is super squishable, super soft, and super fluffy. You can use it to cuddle at night or as a really soft pillow. And in the morning, you can squish it anyway to relieve work or school stress. The shape of this corgi plush toy retains after many rounds of squishing.
---
This coffee mug with the rebellious corgi butt is the perfect gift for any person who loves corgi. The drawing of the corgi butt is defiant and demonstrates the spirit of a corgi that knows its charm.
---
How's best to tell your mailman that you have a corgi in the house. Why yes of course, with a corgi silhouette doormat. This doormat captures the essence of a corgi – short stubby legs and a round body. This doormat holds up in harsh weather conditions and the corgi image remains clear even after a long period of usage.
---
This tiny plant pot set is suitable to put around the house as you please. The corgi design is super adorable and is great for either indoor or outdoor decors such as decorating shelves or garden landscaping. Do note that the succulents are not included in the set.
---
Corgi butts have a tiny following, and what best to show your love for their butts apart from their super lovable round corgi butt plush pillow. They are extremely plushy and soft, and silly at the same time. If you use it as a sofa cushion, it is bound to be a conversation starter for your guests.
---
Check out our masterpost for other styling inspirations!