Creative Technologies have always been known for their outstanding speakers and sound system technologies. So when they roll out their first IP camera – Creative Live! Cam IP SmartHD, I was a bit surprised, yet skeptical about the product.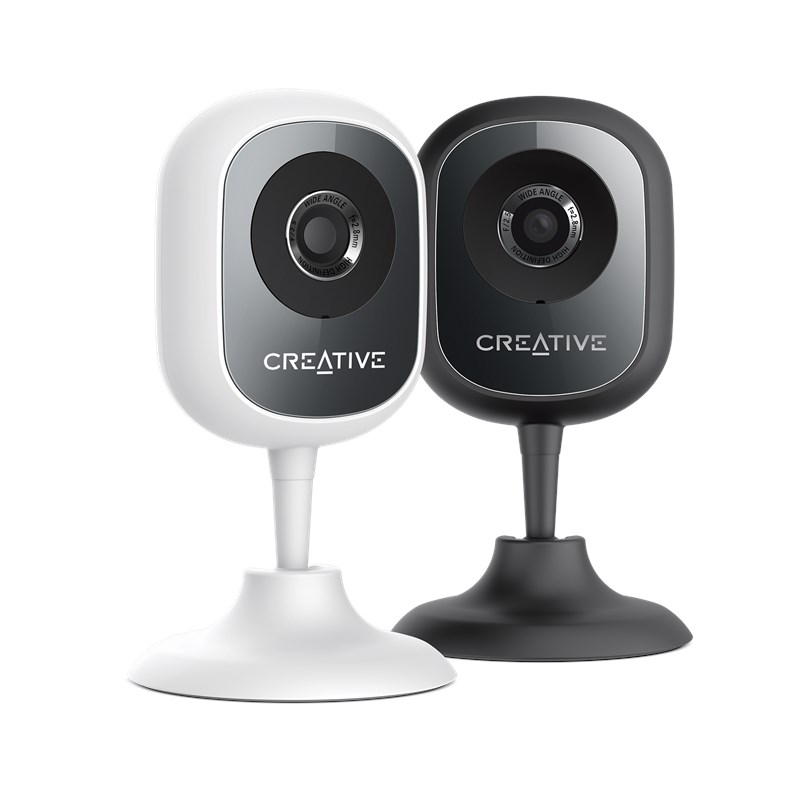 Design
At first look, the Creative Live! Cam IP SmartHD looks pretty sleek with its black or white gloss finishing. The wiring also comes with the same black / white color to blend in well with its surrounding.
At a dimension of 121 x 70 x 70 mm, this IP camera is pretty small, but hardly concealable. No matter where I try to hide it, it is not hard to be spotted by the rest of my family.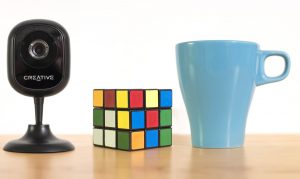 Basic Technical Specifications
1280 x 720 HD CMOS sensor
Night Vision
110°-view Angle
Fixed Focus
Digital Zoom
Motion and Sound Detection
Up to 50 hours of Recording
Storage via microSDHC Card, up to 32GB, or cloud storage (subscription basis)
Recording File Format in MP4 or JPEG
Two-way communication with Push-to-talk Microphone and Speaker
Wi-Fi Connectivity
In the Box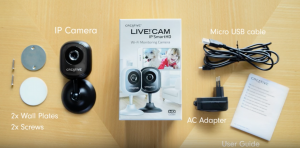 Creative Live! Cam IP SmartHD are mounted magnetically via the wall plates. Hence, it is easy to remove the IP camera as needed.
Setting Up
Setting up was slightly more difficult than I thought. Finding a perfect location to mount the camera is tough.
The night vision in the IP camera is unable to work across glass window as it will only capture the reflection at night. It's also not feasible to put it at the porch or balcony as people can simply detach the power socket and remove the camera. Hence, this Creative Live! Cam IP SmartHD is most suited for placement in indoor area.
Indoor, you will need a spot with excellent WiFi coverage and a power socket nearby. Any location with a less-than-ideal WiFi signal will result in a degraded video quality with lagged captures.
After you found the perfect location, you will need to pair it with a mobile application to be able to view the videos. Many users have issues finding the application in the Play Store or the App Store so we have included them here for your convenience.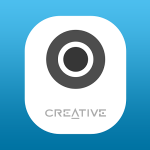 Get Live! Cam now at App Store or Play Store here!
Mobile App Setup
After downloading the mobile app, you will need to create an account using either your email or mobile number. You can then scan the QR code that is located on the device or the instruction manual to add the camera to your account. Thereafter, it will prompt you to enter the WiFi password, after which the setup is good to go. For those confused, the app also comes with simple to follow onscreen instructions to guide you.
Pros
Value-for-Money
Perhaps the first thing that attracted me to this IP camera is how value of money it is. Just by looking at the technical specifications alone, you would realise that this Creative IP camera packs a hell lot of features that would normally be found in high-end IP camera. Yet this camera can be brought home for a nifty price tag of less than $50 bucks.
2-way Communications
Creative Live! Cam IP SmartHD comes with 2-way communication, which is pretty neat, considering the price tag involved. At the camera end, all you have to do is talk loudly near the camera and the person with the app would be able hear you. While the person with the app can simply press a button and talk, and it will be heard by the other party.
This is pretty cool if you have a pet at home. You can just talk through the app and walk your pet's perplex / ecstatic / confused expression.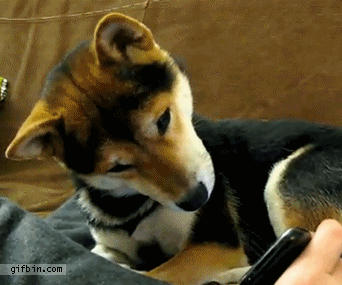 24-hours Clear Video Recording
Creative Live! Cam IP SmartHD comes with 70p high-definition. There is a roughly-1 second lag in the transmission for those who are really particular. However, if you are not using it for high-speed recording and viewing, it probably would not have much impact.
When you turn off the lights or when the light source is weak, the camera will immediately switched to night vision mode to ensure that visibility is still maintained.

The night vision makes the video slightly grainy, but it doesn't deteriorates the quality much. Other than pretty much getting freaked out by the scary eyes, you can still make sense of the people in the view.
Up to 7 Days storage
I love the fact that you can put a SD card of up to 32GB in the IP camera. This means that you can record up to 7 days of footage before it overwrites the old content. I can back up the data every 7 days and keep the footage as needed. This allows me to review the footage in case of any events, which is definitely crucial as its role as a security camera.
It also comes with a subscription based cloud model where up to 10 days of footage are automatically uploaded into the cloud. Upon purchase, it comes with a free trial for 1 month. After which you will need to pay a monthly fee of $6.99 to maintain the subscription.
Cons
On-Off Poor Video Transmission
The video transmission tends to be degraded whenever the WiFi strength drops slightly. I also noted that the night vision do not adjust very well when light source comes back. I need to manually restart the camera to get the camera back to normal vision.
Too Many False Positives with Motion and Sound Sensors
While there is a setting to define the level of sensitivity to motion and sound, it never work. Whenever it is perfectly quiet with no single soul, I still constantly receive alerts. However, when it is noisy with loads of movement around, no alert was sent to me.
Conclusion
Overall, I would use this camera as an inexpensive solution to watch over my pets at home or the elderly to ensure they are safe and well. For those looking for an outdoor camera, this won't be the one as there is no water-proof capability either.
If you not particular about getting all the footage 100%, and willing to overlook the minor hiccups here and there, I believe that this will be a perfect starter IP camera for you.
Get yours now here!