Condominium (Condos) always look so classy. Coupled with the oh-so-fabulous swimming pool, BBQ pits, and gym all within steps away, it's really a dream home for any. However, we all know that everything has a price tag, and condos have a pretty hefty one. Especially for young couples who have only been in the workforce for 2 to 4 years, it might be financially draining to afford it.
Yet at the same time, receiving a notification that you have not been given a queue number for your HDB BTO application for the nth time makes your dream of getting home to call your own even further. If that's the case, why not consider Executive Condominium (EC)?
What is an Executive Condominium (EC)?
It is launched by the government to cater to middle-income families who did not want an HDB flat (or who can't get a queue number) but cannot afford private property. They are similar to private condos where they have all the facilities in-house, but they are usually priced at a discount as compared to condos.
But can you afford it? Scroll down for the pricing guide for the relevant charges, and how much it really costs after adding in all the miscellaneous charges.
---
First Appointment (Booking of Flat)
Option Fee
The option fee is a payment that entitles you to an Option to Purchase (OTP) for the unit you booked. It is only payable via cash.
This fee is not refundable if you back out of the purchase after signing the Sales and Purchase Agreement. However, if you back out before, or not sign the Sales and Purchase Agreement within 8 weeks, you will have to forfeit 25% of the option fee.
Damage = 5% of the purchase price
CPF Housing Grant
Surprise surprise! CPF grant is given if you meet the requirements, unlike private condos where no support is given. Do apply for the grant early so that you can use it to pay for the downpayment.
However, if downpayment contains a cash portion, it cannot be used. If the grant cannot be disbursed before your downpayment, you can also use it to offset part of the mortgage loan. The breakdown is as below: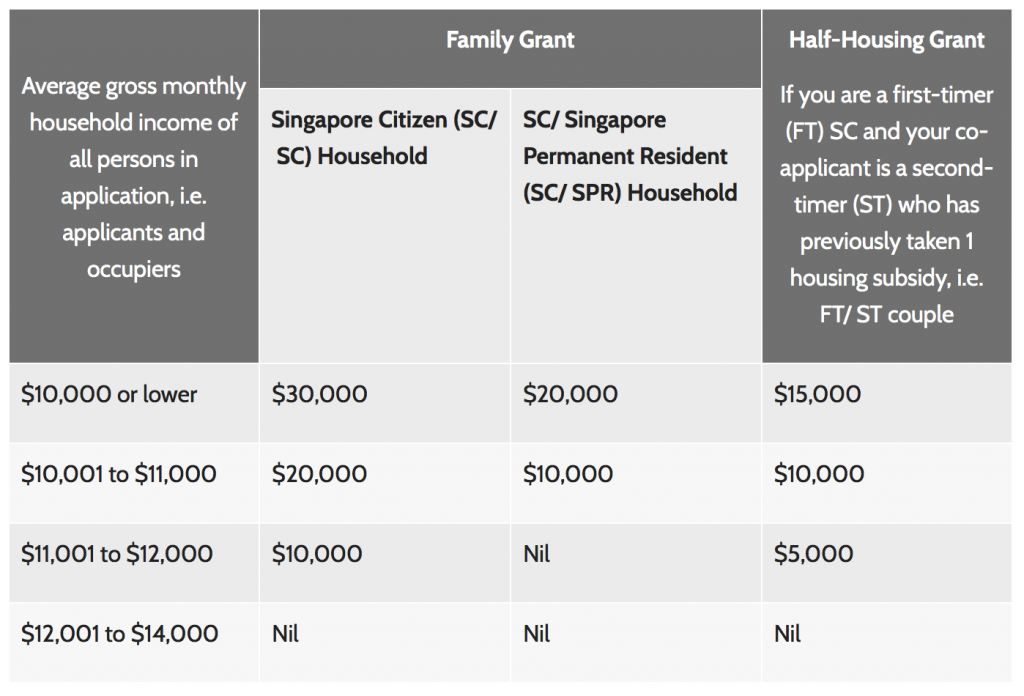 Damage = None! More of collection of CPF (if applicable)
---
Second Appointment (Signing of Sales and Purchase Agreement)
Downpayment
Since you have given a 5% option fee in the earlier appointment, the remaining downpayment needed would be 15%. The downpayment needs to be settled within 8 weeks from the date of OTP. This time round, the payment can be made via CPF OA (ordinary account).
Damage = 15% * purchase price
Legal Fees
You would need to hire your own solicitor to handle all your paperwork. The paperwork includes conveyancing and the registration of land titles and deeds and granting of the bank mortgage loan (if any). The average rate is between $2300 to $3000 as it is usually subsidized by the bank (only if you are taking a bank loan). This amount is also payable via CPF.
Damage = $2300
Valuation Report
You will need a valuation report done by a third party to determine the fair value of your EC. This is usually arranged between your bank and the valuer and sent to your solicitor. It usually costs $200 before GST, and may be absorbed by the bank giving the loan as package. Otherwise, it can be paid via CPF or cash.
Hence, damage = $214
Survey Fees
The survey fee is payable based on the types of flat and is to offset costs of engaging professional surveyors. This is paid to the solicitor via CPF or cash, on top of the legal fees. The price ranges between $250 to $450 and will be stated in your agreement.
Hence, damage = between $250 to $450
Monthly Maintenance Fees
6 months of monthly maintenance fees need to be paid in advance to the developer. The amount paid depends on how much shares your unit is worth. An average maintenance fee of a 3 roomer comes up to $250 to $300 per month. This cannot be paid using CPF.
Hence, damage = ($250 to $300) * 6
Buyer Stamp Duties
Stamp duty is a lump-sum tax that you need to pay whenever you purchase or sell your property. It is calculated based on the value of the property and the percentage is as follows:
Calculation of Stamp Duty
First $180,000
1%
Second $180,000
2%
Thereafter
3%
While the buyer stamp duties can be paid via CPF, you would need to pay them in cash first to the lawyer. Thereafter, the lawyer will apply to CPF Board to release your CPF money before reimbursing you back.
Hence, damage = (n * 3%) – $5400, where n = the purchase value
---
Third Appointment (Keys Collection)
Fire Insurance – Mortgagees Interest Insurance
While this is optional, most banks tie this up with your mortgage loan. This covers the exterior of the unit, such as the structure and the beams. This is actually used to indemnify the bank such that in the event that your house caught fire, and affects your ability to make payment to the mortgage loan, they can claim from the insurance company.
Do note that you are still required to continue to make your monthly payment. However, you are making the repayment to the insurance company rather than the bank.
Fret not, most EC actually have a Management Committee of Strata Title Plan (MCST) that have similar coverage as this mortgagees interest insurance. Hence, if a fire really breaks out, you can claim from this.
Fire Insurance – Home Content Insurance
This covers both the renovations and content of your home when your house caught fire. Renovations include fixtures such as the shelves and the marble tiles that you have specially imported from Italy. While home contents refer to furniture such as the 8k mattress or the 3k TV that you got at a great discount.
Most homeowners are recommended to get it, especially when people are spending more and more on home renovations.
Mortgage Insurance
This is optional and you will need to approach a private insurance company to get a quotation.
---
Monthly Installments
There are 2 types of payment scheme – progressive payment and deferred payment scheme.
Progressive Payment Scheme
Progressive Payment (Standard Payment)
Stage
Payment under a standard payment scheme ( % of purchase price )
Upon the grant of Option to Purchase
5% – 10% (booking fee)
Upon signing of the Sale & Purchase Agreement or within 8 weeks from the Option date
20% less booking fee
Completion of foundation work
10%
Completion of reinforced concrete framework of unit
10%
Completion of partition walls of unit
5%
Completion of roofing/ceiling of unit
5%
Completion of door sub-frames/ door frames, window frames, electrical wiring, internal plastering and plumbing of unit
5%
Completion of car park, roads and drains serving the housing project
5%
Issue of Temporary Occupation Permit
25%
On Completion Date
2%
Issue of Certificate of Statutory Completion
8%
Expiry of the defects liability period
5%
Deferred Payment Scheme
This scheme allows purchasers to defer the due date for the progress payments under the standard payment scheme to a later date.
Deferred Payment Scheme
Stage
Payment under a standard payment scheme ( % of purchase price )
Upon the grant of Option to Purchase
5% – 10% (booking fee)
Upon signing of the Sale & Purchase Agreement or within 8 weeks from the Option date
20% less booking fee
Notice of Vacant Possession
65%
On Completion Date
15%
---
Sample Calculation
In this sample, we are looking at a 3-roomer EC with a price tag of $700,000.
We can assume the following:
The couple are both Singaporean.
Combined income is $10,000, which means the CPF grant is $30,000.
Bank loan is taken at 3.5% per annum for the maximum tenure of 30 years. (This is the standard interest rate used to calculated based on MAS policy.)
Calculations as follows:
First appointment
Option Fee = $35,000 (cash)
Total = $35,000
Second Appointment
Downpayment = $105,000 (CPF)
AHG / SHG = -$30,000 (deposited to CPF)
Legal Fees = $2500 (CPF)
Valuation Report = $214 (CPF)
Survey Fees = $300 (CPF)
Monthly Maintenance Fee = $1800 (Cash)
Buyer Stamp Duty = $15,600
Total = $95,414
Third Appointment
Mortgage Insurance = optional (Cash)
Fire Insurance = optional (Cash)
---
Monthly Installments
Assuming that they have paid for the downpayment using their existing CPF money and use the grant to offset their downpayment, their final loan would be $560,000.
They would need to pay $2515 monthly (calculation from DBS Loan Calculator). The total amount paid for the loan would be $905,400 for a 30 years loan tenure.
The above calculations only include the monthly housing installments and do not include monthly bills such as utility bills, S&CC, property taxes, etc.
---
How much does an EC (Executive Condo) really costs?
In conclusion, the total price you are paying for your EC would be:
$35,000 + $95,414 + $905,400 (total instalment paid) = $1004,314 (for 30 years instalments)
Wow! Even though your EC may cost $700,000, the actual costs you are paying might be up to 45% higher than what you sign up for, mainly due to the interest rates you are paying. In addition, the downpayment is 20%, so make sure you have sufficient cash/CPF if you are committing to an EC.
Debating between an EC or a HDB, do check out our guide on how must a HDB BTO really costs.
Last Updated: 15 Oct 2018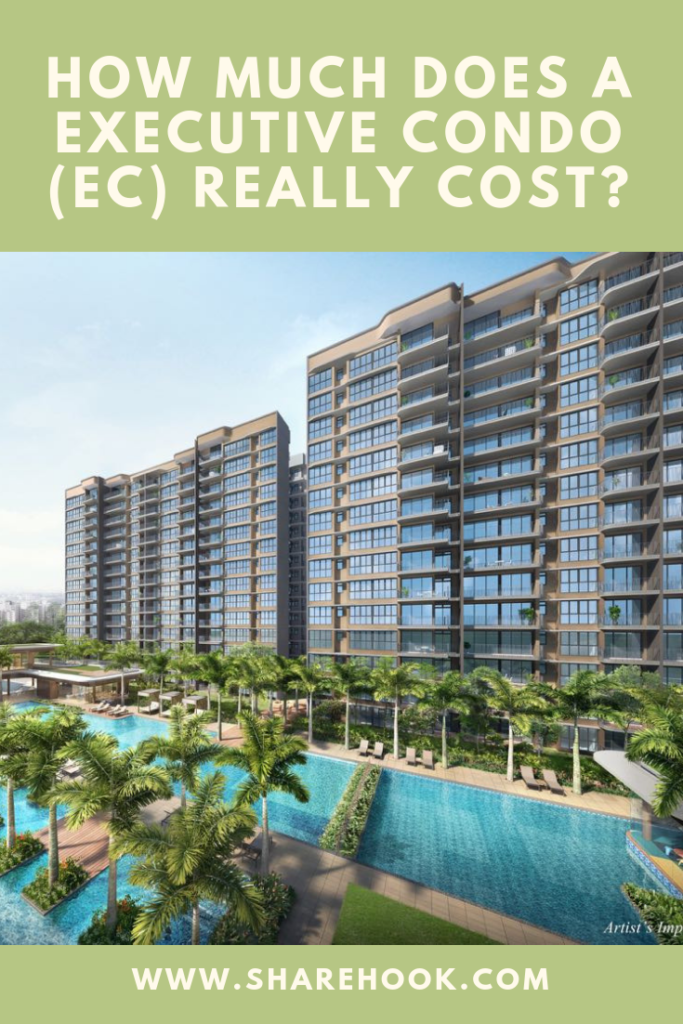 Check out other related posts here: