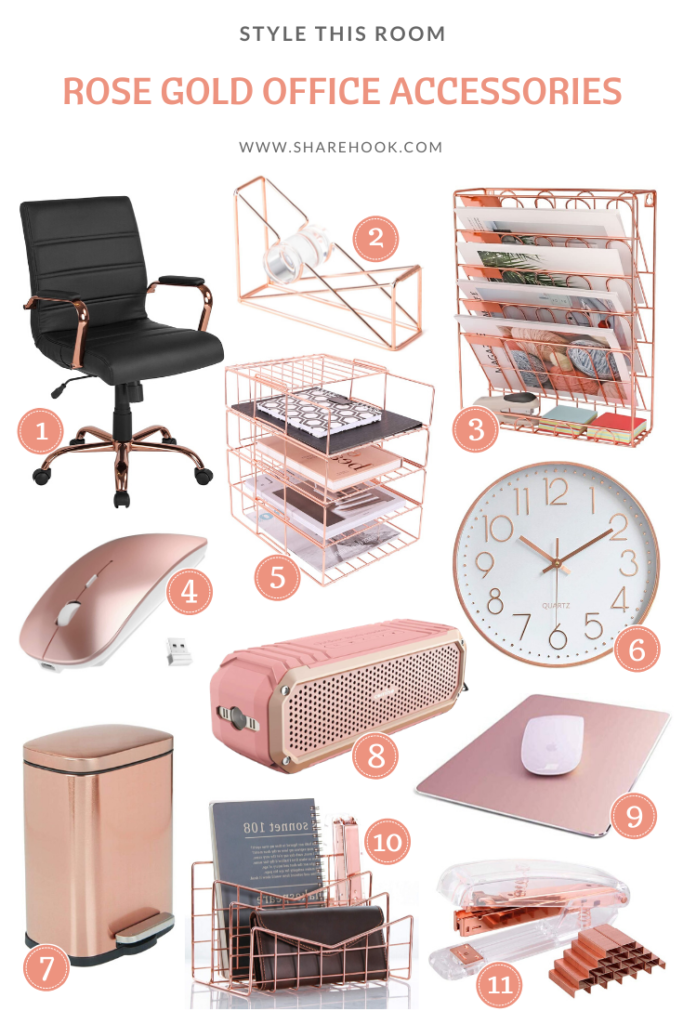 1.
This leather rose gold office chair by Flash Furniture ties up the complete rose gold home office vibe you are going for. It comes with a leather padded black seat with a rose gold frame, that is timeless and contemporary. This rose gold office chair comes with a waterfall seat edge that provides great ergonomic support for the back. You can also adjust the tilting angle based on your comfort level, or even set it to rocking motion if you prefer.
---
2.
This rose gold tape dispenser appeal to the minimalist in our heart. It is made up of a few wire frames that connects together to give the shape of a tape dispenser. The rose gold tape dispenser is as functional as they are beautiful to look at and can hold tape and washi rolls with standard 1 inches cores. Best paired with this beautiful metallic rose gold washi tape.
---
3.
If you have very little desk space, and lots of document to sort, this slim 6 tier hanging rose gold file organizer is perfect for you. It comes with 5 tilted document tray to hold papers and documents and 1 flat tray at the bottom to hold small desk accessories like pens and staples. This hanging rose gold file organizer can either be placed on the table, or if you prefer, you can also hang it against the wall with the provided screws.
---
4.
Wireleses mouse are great, they avoid wire messes and you can easily bring them around and keep them easily without unplugging and plugging wires over and over. This rose gold wireless mouse is the perfect addition to your computer setup. It coms with silent click and there are 3 DPI levels that you can adjust to. it is best paired with this beautiful rose gold mouse pad.
---
5.
This is another great file organizer if you have a larger desk space and thicker documents to go through. Each later of the rose gold file organizer is almost 4 inches thick, which can hold a lot of documents and paper. The best part is that this rose gold file organizer is stackable, which means that you can get more to stack higher and higher as your papers keeps piling up.
---
6.
If you tend to lose yourself in your work or your studies, you should definitely get a clock. This rose gold wall clock is timeless (pardon the pun) and classic, and it looks amazing on any walls of your home office. It is also silent, which means that you will not get distracted by the tick-tock sound that some clocks make.
---
7.
With all the loose staples, shredded documents and coffee cups lying around the office, you would need a trash can to store all those rubbish right? This rose gold trash can will fit into any home office that is leaning towards the blush pink or rose gold decor without looking out of place. It also comes with a lid so that it can prevent hide the unsightly content of your trash can and keep your home office clean.
---
8.
If you are looking for a good acoustic system to play some background music while you work, this rose gold bluetooth speaker is a great option for you. It comes with dual drivers for better audio processing and your music is crisp and clear. This rose gold speaker is small enough and light enough to carry in a bag which makes them very portable. They connect to any devices via bluetooth, which makes them very versatile in any situation.
---
9.
This rose gold mouse pad is designed to be used on both sides. Each side comes with different texture – one side is made of aircraft-graded aluminum alloy while the other side is made of PU leather. You can switch around the sides based on your preference or even the activity you are doing (gaming vs work). They are waterproof, which means they are not affected by water spills. You can easily clean the rose gold mouse pad by wiping it with a wet towel.
---
10.
This rose gold desk organizer is very versatile. It comes with 3 slots for you to either place the typical letters and papers. However, you can also use it to store bulkier items like wallet, tablets and even so that you can free up spaces on your table. Just make sure that you have some form of weight or the wall support the rose gold desk organizer to prevent it from toppling.
---
11.
This beautiful rose gold stapler is definitely an upgrade to the typical boring metallic stapler. It comes in a stunning transparent and rose gold body that makes it easy for you to see the remaining amount of staples easily. They are best paired with rose gold staples to maximize the visual aesthetic. If you are looking for staple refills, you can get these rose gold staples.
---
More rose gold office accessories designs:
Or check out our masterpost for other styling inspirations!