In Singapore, it is common for children to stay with their parents until they marry and get their own apartment. However, for those who choose to remain single by choice, or who have not found their dream half, they may have to wait until they are 35 years old to finally get their own little nest they call home.
HDB BTO
Singles can apply for either the Single Singaporean Citizen Scheme (SSC) or the Joint Singles Scheme (JSS) for new HDB BTO launches. Do note that only 2-room flexi units in non-mature towns are up for grabs.
To be eligible for HDB BTO, the below requirements need to be fulfilled:
Singaporean citizenship
Unmarried or divorced (35 years old or above) or
Widowed or orphaned (21 years old or above)
All applicants are first-timers
Not earning more than $6000 for 99 years lease
There are some differences between the SSC and JSS:
JSS means that 2 to 4 singles are jointly applying, while in SSC, only 1 single are applying.
Under the SSC, you would be required to top up an additional S$15,000 for your unit, while those in JSS are not required.
Demand Analysis
Based on historical trends, BTOs for singles generally see a high over-subscription , though the situation have improved as the backlogs are cleared.
The demand for HDB BTO are high for a number of reasons:
Lower quantum
Based on 2017 BTO exercises, a 2-room flexi unit costs up to a maximum of $164,000, before grants. Whereas a 3-room HDB resale can costs anywhere between $240,000 to $300,000, before grants. For those singles who cannot afford such a high quantum, BTO flat are their best choice.
Grants
It's a well-known fact that HDB gives out grants for applicants with low income in tiered amounts.
For those applying under the SSC, you are eligible for grant as long as your monthly income is not more than $4250 and have been working continuously for at least 12 months. Up to $40,000 grant are up for singles who met their requirements.
For those applying under the JSS, you can get grants if you are earning not more than $6,000 in combined salary and at least 1 applicants have worked continuously for at least 12 months. In fact, up to $80,000 grant are up for singles who met their requirements.
Unit lease
All new HDB BTO comes with a 99 years lease. This is a consideration point for many when comparing to resale HDB.
Considerations
While it is true that the price of the 2-room flexi BTO units are enticing, there are some caveats to this option.
Time Constraints
If you managed to snag a unit on your first try, the earliest you would be looking to get your keys are when you are 38 to 39 years old. Add in renovation time, and you could be looking to celebrate your 40th birthday before moving in.
Space Constraints
The 2-room HDB BTO are actually pretty compact. While it's definitely ideal when it comes to cleaning, it may not appeal to those who enjoy hosting or who wishes for more space.
Location
2-room HDB BTO for singles are mainly built in non-mature estates. If you are someone who values location and convenience, it may not be a compatible option for you.
Resale HDB
Resale HDB would seem to be a better option for those who do not wish to endure the long building period of BTO, did not meet the income ceiling, or wish for a larger living space that resale HDB provides.
There is no income requirements to meet, nor is there a limit to the choice of flat size, as long as you can afford it.
HDB Grants
Grants are available for singles buying resale HDB, as long as the income requirements are met. Since 2018, the government have adjusted the grants to help make resale flats more affordable for singles. in fact, you could received up to $60,000 in grants.
There are 3 types of grants singles can apply for if they are buying a resale flat.
Singles Grant
These are some requirements that singles have to meet in order to receive the grant:
At least 1 applicant must be first-time applicant
Be at least 35 years old
Gross income not exceeding $6,000 for those applying under SSC and $12,000 for those applying under JSS
The flat to be purchased have at least 30 years on the lease
Additional CPF Housing Grant (Singles) (AHG)
AHG have a tougher income requirements. To be eligible for the grant, you should be earning not more than $2500 under the SSC and $5000 under the JSS.
Proximity Grant
HDB have in 2018, increase the proximity from 2km to 4km. To be eligible for the $10,000 grant, you simply have to stay within 4km of your parents.
Considerations
Finances
Bear in mind that if you are getting a resale under the SSC, you are financing for the flat on a single income.
Location
Getting a resale HDB allows for a wider option of location to choose from. This is fantastic if you need to stay near your parents to take care of them, or would want to stay near your workplace.
Time Constraints
Having waited for 35 years, some may find it hard to wait a further 3-4 years for the HDB BTO to be build up. In this case, a resale would be more desirable as it is readily available.
Executive Condo (EC)
For couples or families who would want to enjoy a better living environment without getting a private property, they can consider purchasing an EC. Do singles have this option?
Well, singles can actually apply for EC under the JSS.
For those interested, do note that the below requirements would need to be fulfilled:
All applicants, up to 4 person, must be Singaporeans and at least 35 years old
The total monthly income must not exceed $14,000
Do note that grants are not disbursed under the JSS scheme. Additionally, SSC cannot be applied for EC.
Private Property
As long as you are 21 and above, and you can afford them, there is no restrictions in terms of marital status.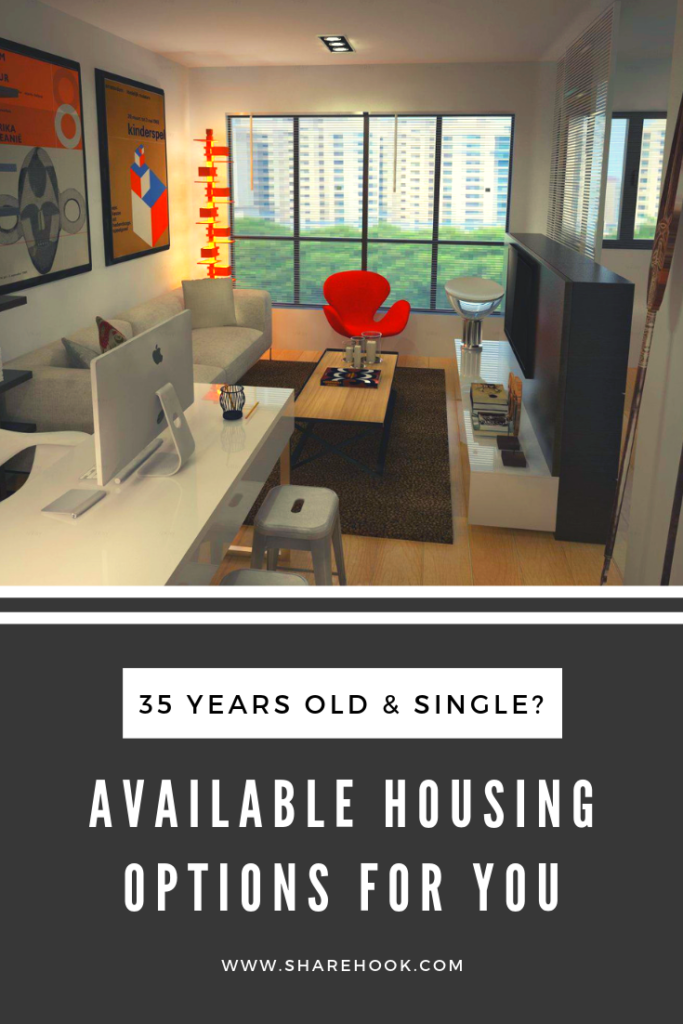 Check out other related posts here: