In Singapore, it is common for children to stay with their parents until they eventually marry and get their own flat. However, for those who choose to remain single by choice, or just haven't find their dream half, they may have to wait until they are 35 years old to finally get their own little nest they call home.
Why 35 years old? Well, no one knows. When the news splashed Singapore in 2013 that singles can buy new BTOs, the requirements was set as such. Regardless, it's good news for all singles, and it was highly celebrated by all.
What BTO Flats can Singles Buy?
Singles can apply for either the Single Singaporean Citizen Scheme (SSC) or the Joint Singles Scheme (JJS) for new BTO launches. Both have similar requirements to follow, which are:
Must be Singaporean
Unmarried or divorced (35 years old or above) or
Widowed or orphaned (21 years old or above)
All applicants are first-timers
Not earning more than $5000 for SSC and $12,000 for JJS
There are only 2 differences between the SSC and JJS:
JJS means that 2 to 4 singles are jointly applying, while in SSC, only 1 single are applying.
Under the SSC, you would be required to top up an additional S$15,000 for your unit, while those in JJS are not required.
Even after fulfilling these requirements, you are only allowed to ballot for a 2-room Flexi flat in a non-mature town, whereby only up to 30% of the supply will be reserved for you.
Is the Demand High?
Yes, based on historical trends, BTOs for singles generally see a high over-subscription whereby 1 flat can be vied by as many as 10 people.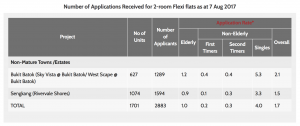 This situation only worsen for SOBF exercises whereby getting a flat is akin to striking TOTO. Are you kidding me?! 453 singles snatching for 1 unit!! Just WOWW!

Why is the Demand so High for BTOs?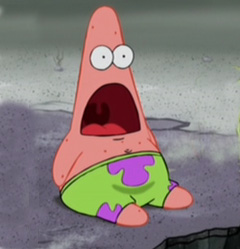 In any case, you see that the demand is high for BTOs in general. this can be due to the following reasons:
Based on 2017 BTO exercises, a 2-room flexi flat can cost up to a maximum of $164,000, before grants. Whereas a 3-room flat can costs anywhere between $240,000 to $300,000, before grants. For those singles who cannot afford such a high quantum, BTO flat are their best choice.
It's a well-known fact that HDB gives out grants for applicants with low income in tiered amounts.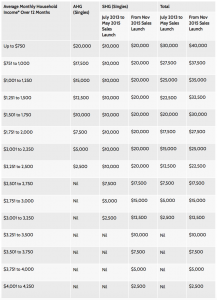 For those applying under the SSC, you are eligible for grant as long as your monthly income is not more than $4250 and have been working continuously for at least 12 months. In fact, up to $40,000 grant are up for singles who met their requirements.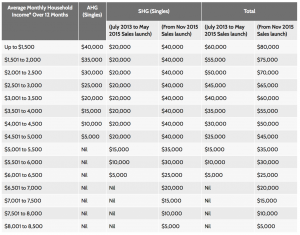 For those applying under the JJS, you can also get grants if you are earning not more than $8,500 in combined salary and at least 1 applicants have worked continuously for at least 12 months. In fact, up to $80,000 grant are up for singles who met their requirements.
Indeed, if given a choice, I believe that most people would opt for a brand new house. It saves them the hassle of destroying the existing fittings which would costs them money and time. They would also get the full 99 years lease as compared to an old housing.
Not forgetting that all new 2-room flexi units gets:
floor finishes in the kitchen, household shelter and bathroom
wall tiles in bathroom and kitchen
sliding partition/ door for bedroom; folding bathroom door
water closet suite in the bathroom
These would greatly reduces their renovation costs and also expedite their time to move in.
Should you get a BTO Flat then?
It depends. While it is true that the price of the 2-room flexi BTO units are enticing, there are some caveats to this option.
Timing
Lucky singles would have to wait for the norm of 3 to 5 years for their BTOs to be built, and you can start applying for 2-room flexi flats ONLY after you turn 35 years old. You cannot apply in advance and wait to collect your key after you are 35 years old. It won't work as the system simply would not accept your application. If you managed to select a unit when you are 35 years old, you probably get to finally move out only when you are 39 years old.
However, if you are not the lucky ones, you may have to wait for years before you finally get a queue number to purchase the unit. Which by then, would add a few years to the process.
Space Constraints
And 2-room unit, to be honest, can get pretty small. If you are a party host who enjoys having some friends to hang out, the space may be insufficient.
Location
These 2-room units are all built at non-mature estates. If you are someone who values location and convenience or have been so used to staying in a mature estates, it may require some adjustment to stay at these areas.
What Resale Flats can Singles Buy?
For those singles who are not willing to wait, did not meet the income ceiling, or simply felt that they need a larger space, they can choose to opt for a resale flat.
In this case, there is no income requirements to meet, nor there is limit to the type of flat size, as long as you can afford it.
However, do note that the age requirements of 35 years old and being a first-timer still apply.
Can I Still Receive Any Grants if I Buy a Resale Flat?
Yes you can, as long as you meet their income requirements. In fact, the government have raised the grant amount starting this year Feb to help make resale flats more affordable for singles.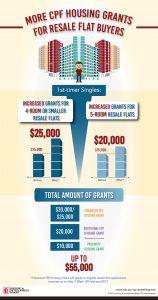 There are 2 types of grants that singles can apply for if they are buying a resale flat.
Singles Grant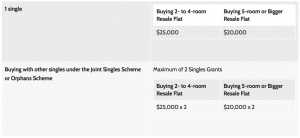 There are some minimum requirements singles have to meet in order to receive such grants:
Must be a first-time applicant
At least 1 applicant have have for at least 12 months consecutively
Gross income not exceeding $6,000 for those applying under SSC and $12,000 for those applying under JJS
The flat to be purchased have at least 30 years on the lease
Additional CPF Housing Grant (Singles) (AHG)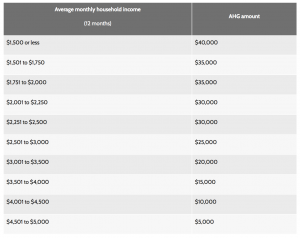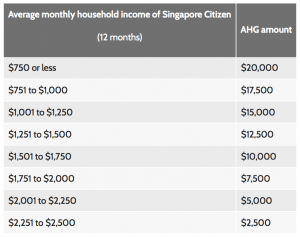 Likewise, AHG also have some stringent requirements that applicants have to adhere. They are similar to the requirements for Singles Grant, except that the monthly income cap for those applying under the SSC is $2,500 and JJS is $5,000.
Proximity Grant
This is a pretty tough grant to get. To be eligible for the $10,000 grant amount, you will need to fulfil a condition whereby your parents need to be staying with you in the resale flat that you brought. Which I see it as not much difference from your previous living conditions. To each his own, I guess.
Should You get a Resale Flat then?
Location
Well, you should consider this if location is very important to you. If you are purchasing a resale flat, you can choose units of any location. This is fantastic if you need to stay near your parents to take care of them, or just want to stay near your workplace.
Living Conditions
Some individuals may have issue of space at their family home. I've known of people who spend their entire lives sharing rooms with their siblings, or just finding a corner in the house to sleep due to the number of people staying in the house. Some simply have bad relationships with their family and needed a place to be out of their family house.
In this case, a resale flat might be more suitable as you can get the keys much more quicker and move out asap.
Can I Purchase an EC if I can Afford It?
Usually for couples or families who can afford a better quality of living, they would have either EC or condo to choose from. What about singles?
Singles can actually apply for EC under the JJS. Sadly, you cannot apply for EC under the SSC, which means, you have to submit your application with someone else.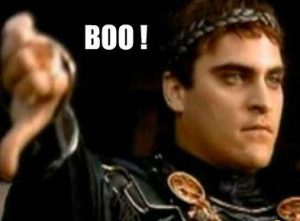 For those applying under the JJS, you will also need to fulfil certain requirements:
All applicants, up to 4 person, must be Singaporeans and at least 35 years old
The total monthly income must not exceed $14,000
Do I Still get Grants for Applying EC?
Sadly no. Nuff said.
Should You get an EC then?
Finances
Getting an EC is always about the finances. A typical 3-roomer EC may costs approximately $700,000. A similar sized resale flat at a similar area may costs half that price. Not forgetting the monthly maintenance fees of $250 to $300 you need to pay when you stay in an EC, the total monthly costs can turn out to be pretty hefty.
What about Getting a Condo?
You know what, if you can afford a condo, you can get it at any age, and marital status. You do not have to be restricted to the age requirements like public housing and semi-public housing does.