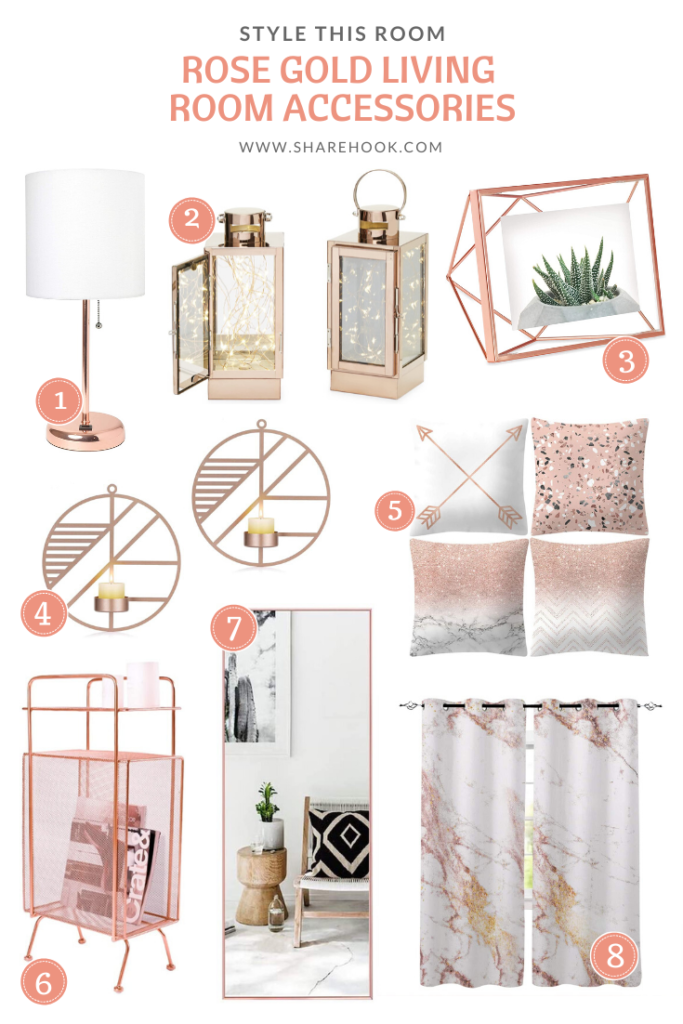 White Fabric Shade Table Lamp with Rose Gold Base
This beautiful table lamp comes with a lovely rose gold base and a white fabric shade that matches almost any blush pink decor you have been planning. They comes in a set of 2, and comes with an added power outlet that you can use to charge your phones and tablets.
---
Rose Gold Lanterns with Warm White Fairy Lights
During movie nights or romantic nights in, you would wish for a softer glow that will set the tone in. This rose gold lanterns with warm white fairy lights emits a dim glow that is beautiful and intimate. They also looks great on any other day with its sleek design.
---
Photos are part of the package to give your living space a personal touch. Showcase your cherished photos in this rose gold picture frame that will accentuate your photos while ensuring that they goes well with any decor you have in mind.
---
Rose Gold Metal Wall Decorations with Tealight Holders
This rose gold wall decorations with tealight holders look amazing on any wall. It give character with its lines and design, while keeping the overall vibe modern and classy. They also fits in any standard tealight, and you can also use to put aromatic candlelights to make the house smells good.
---
Cashmere Rose Gold Cushion Cover
Fluffy cushions is an unspoken rule to having a homely and comfortable living space. Without compromising design, these rose gold cushion cover are made of cashmere and are amazing soft to touch. It comes in 4 different designs so you can spruce up your living space anyway you like.
---
Floor-Standing Rose Gold Magazine Rack
Having a small bookshelf around the living area is great to store magazines and books that you wish to read while chilling by the couch. While bookshelf may look boring, this floor-standing rose gold magazine rack looks chic while serving the exact purpose.
---
It is a known secret that having mirrors around the house helps to make the house looks larger. It also doubles as a great way to check out your ass every time you walk pass it. This rose gold full length mirror helps to fulfil both purpose without it looking out of place in any pink hue living space.
---
Beautiful curtains will complete the look of your living space. This rose gold marble curtain is sophisticated and beautiful all at once. They are not blackout poof, which allows the evening light to stream in beautiful pink hues as the sun comes down.
---
More rose gold living room accessories designs:
Or check out our masterpost for other styling inspirations!