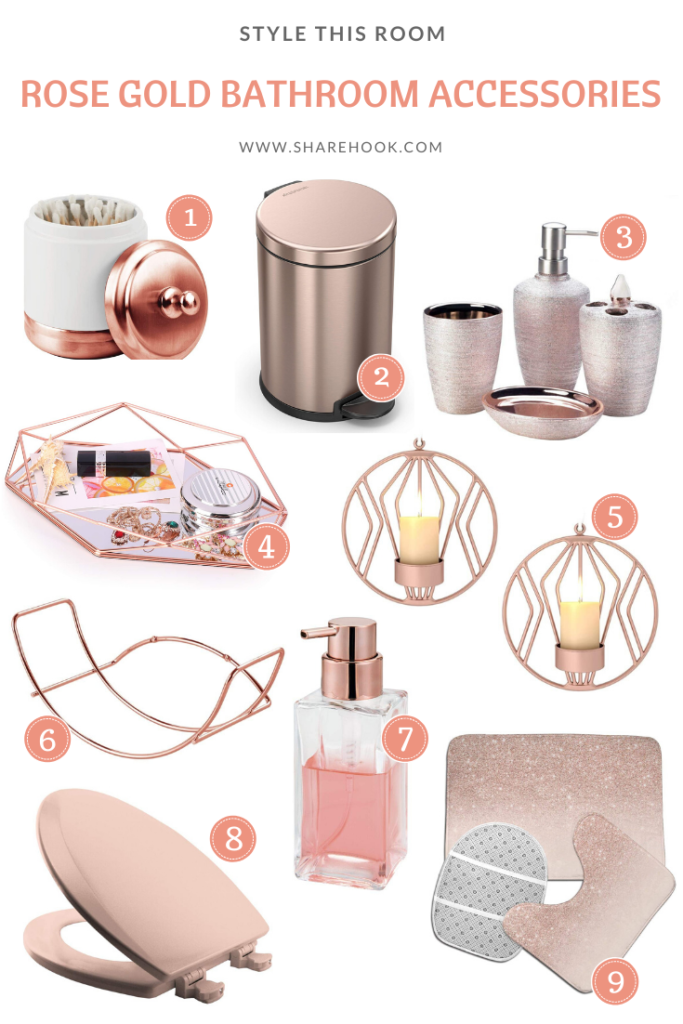 Matte White and Rose Gold Metal Canister Jar
Going for white and pink bathroom decor? This canister jar would be a perfect addition to your bathroom. The canister is opaque to hide the contents and comes with a removable lid to keep dirt and water out.
---
Stainless Steel Rose Gold Trash Can
Conceal your bathroom trash with this lovely rose gold trash can. The bucket is removable for easy disposing of trash, and the lid comes with a silent soft close to reduce sudden motion.
---
Sparkly Rose Gold Bath Accessories
This rose gold bathroom set comes with a lotion pump, a soap dish, a cup, and a toothbrush holder. The exterior of the items shimmers, giving your bathroom countertop a sparkly and tidy look. They are best combined with item 9.
---
Hold small items such as rings and necklaces in this beautiful geometric organizer tray that gives off a hotel vibe. The tray is wide, allowing for multiple items to be stored and grabbed easily.
---
Rose Gold Wall Decoration with Tealight Holders
Create a dim ambiance in the bathroom with these tealight holders. Perfect bathroom decor for those with a rose gold theme. Each pack comes with 2 pieces.
---
Rose Gold Metal Bathroom Wall Mount Towel Rack
Stack clean towels on this towel rack for easy access after hand washing. Maximize unused wall spaces and are great for installing in small bathrooms. Can also be used to stack toilet paper rolls.
---
Easily track your soap level with this transparent rose gold soap dispenser. The dispenser holds up to 14 ounces and is made of glass for a more elegant look.
---
Venetian Pink Wooden Toilet Seat
Use the bathroom in style with this anti-slip wooden toilet seat. It is easy to install, and also easy to remove when you need to deep clean it. The finishing looks pretty and the seat is easy to wash too!
---
Rose Gold Flannel Bathroom Mats, Toilet Seat and Lid Cover Set
Glam up your toilet seat with this 3-pieces glittery toilet seat set. The entire set consists of a toilet seat cover, a bath mat, and a U-shaped mat. They are made of super soft fabric for maximum comfort.
---
More rose gold bathroom accessories designs:
Or check out our masterpost for other styling inspirations!