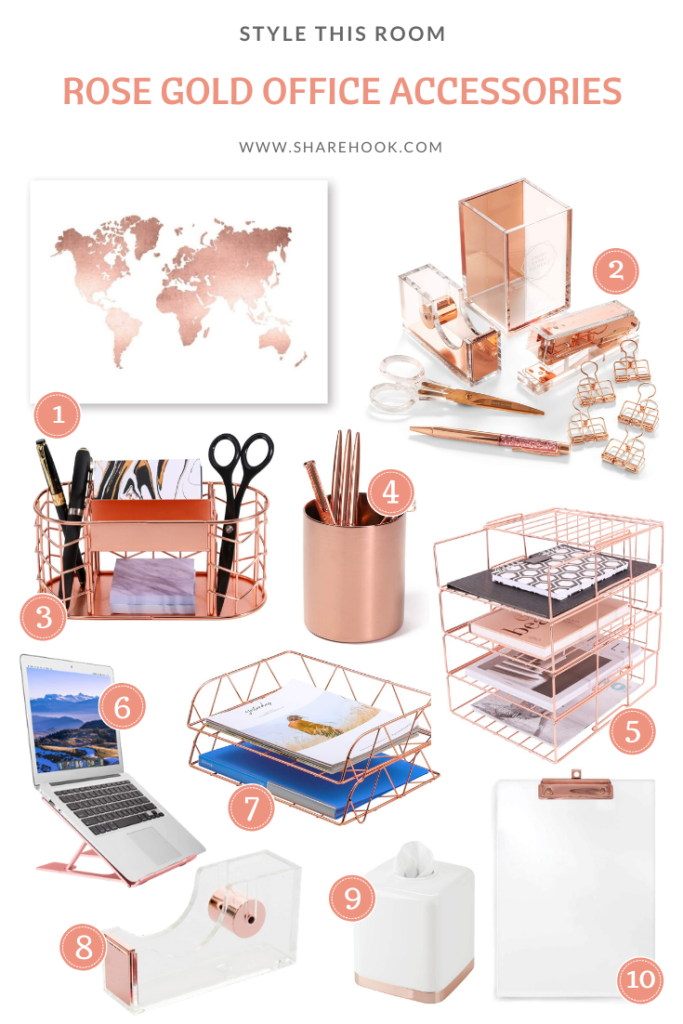 1.
If you have caught the wanderlust bug, but haven't been able to act on it due to work or family commitments, don't forget about it. This pastel rose gold world map is the perfect reminder and decoration for your office or living room to always keep your travel plans at the back of your mind till you finally take the plunge. Do note that no frame is included, but you can also get this woodgrain gallery frame that perfectly accentuates its colors to hang it up.
---
2.
This is one of the most gorgeous rose gold office supplies set I've ever laid my eyes on. This office supplies set consists of 10 different office stationery that are both pretty and functional. In this set, you will get scissors, stapler, pen holder, classy pen, tape dispenser, and 5 fun paper clips. All stationaries are beautifully engraved with chic quotes to keep your spirit up in the office. They are beautifully packed in an elegant box so so you can also gift them to your colleagues or friends who love rose gold.
---
3.
This rose gold desk organizer is a great upgrade to the normal bland desk organizer that rest on many corporate executives' table. Give your table a facelift with this beautiful rose gold desk organizer. It comes with 3 slots that you can arrange your stationeries with and it is also sturdy and heavy enough to double up as a temporary paperweight.
---
4.
Fancy an upgrade to the typical plastic pen holder? Sure it serves its purpose, but they are chunky and boring. This rose gold pen holder is sure to make your day. It is made of stainless steel and looks fancy and expensive. It is definitely a must-have if you are revamping your home office and would like some color coordination for your blush pink office.
---
5.
If you have a lot of letters and paper and require a proper way to organize and catalog them, you should consider getting this shiny rose gold file organizer. It has 4 paper trays that you can use to file different documents. It uses a mesh design, so you can easily identify your papers at each tray quickly.
---
6.
Honestly, every home office needs a laptop stand. For the sanity of your neck and your wrist, laptop stands are great to give you a proper posture to reduce the pressure on those pressure points. This rose gold laptop stand complements any Apple laptop stands while providing ergonomic support with 6 different adjustable heights. You can also check out other laptop stands here.
---
7.
If you are looking for a letter tray that is more minimalistic than the above 4 tier rose gold file organizer, you will love this 2 tier rose gold letter tray. Each set comes with 2 pieces of rose gold file organizer that you can stack together to hold your papers. The beauty is that since they are stackable, you can either choose to put them at different places as you need, or buy more and stack them as high as you want, depending on your requirement.
---
8.
This rose gold tape dispenser is a great addition to any home office. It is made of heavy acrylic that is built for durability and is clear on both sides so you can monitor the amount of tape left without taking the entire thing out. The seesaw that comes with the rose gold tape dispenser is sharp and can easily cut through most of the store brought tape.
---
9.
Tissues are a staple accessory on any office desk for the occasional coffee spill and monitor wiping. Instead of bulky boxes that look unsightly and out of place, consider wrapping them up in this beautiful rose gold tissue box cover. Any store brought square boxes will fit perfectly into the rose gold tissue box cover. As they are made of plastic, you do not have to worry about any water spill sogging out the typical cardboard casing of tissue boxes.
---
10.
Clipboard is always boring with its typical metallic silver clip and boring black acrylic board. Differentiate and showcase your extraordinary taste with this rose gold clipboard that is sure to give you some colors in life. This rose gold clipboard has a 0.125 inches thickness of the white acrylic board that provides good support and makes it easy to write on. It has a pop of color in the form of a rose gold clip that makes it young and modern.
---
More rose gold office accessories designs:
Or check out our masterpost for other styling inspirations!