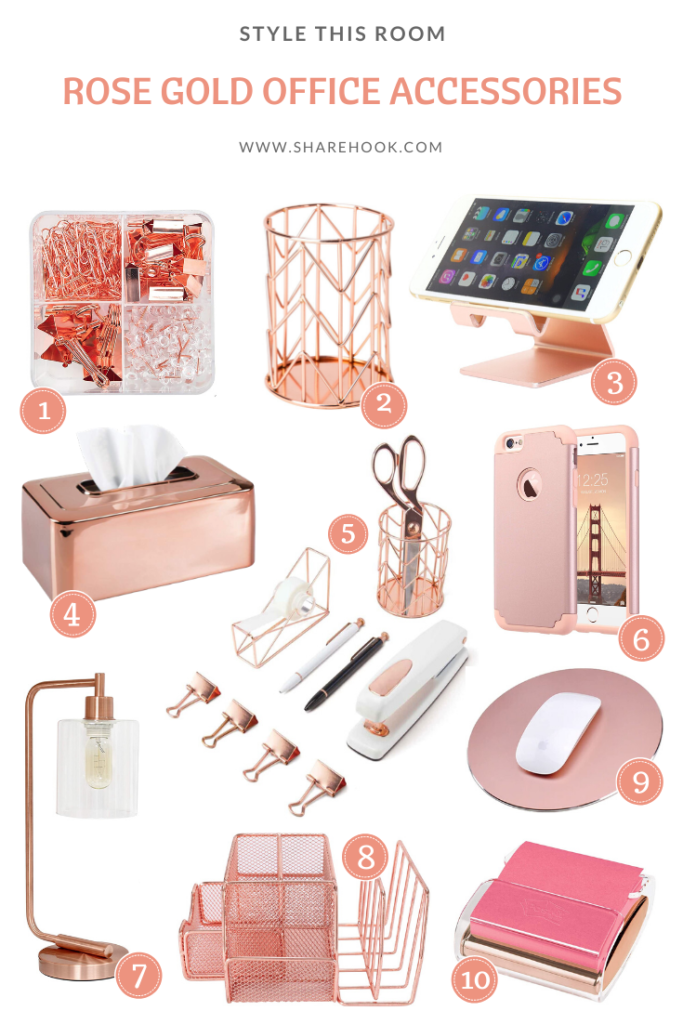 1.
If you need to get your papers and documents sorted out in a hurry, these rose gold binder clips are perfect to hold your papers together. They come in a set, consisting of small and large rose gold binder clips, rose gold push pins, and rose gold paper clips. They are aesthetically pretty and you can easily recognize your documents by spotting these beauty fastened to your papers.
---
2.
Keep your stationery upright and tidy with this wire rose gold pencil holder. Made of metal, this rose gold pencil holder is classy and sturdy, and you can easily hold multiple pens and pencils with it. It will also not topple easily as it has a heavy base and you can also use them as a temporary paperweight.
---
3.
This rose gold phone stand from Honsky is a perfect phone accessory to hold your phone while you are working. It is made of aluminum and can hold most of the iPhone models and almost any type of mobile phone. It is slanted at a viewing angle, so you can view the screen without holding it. This rose gold phone stand also comes with a hole in the middle to hold the charging wire neatly without messy wires being a distraction.
---
4.
Dress up your boring cardboard tissue box with this beautiful and shiny rose gold tissue box cover. It holds any regular, store-brought rectangle tissue box, and comes with a large opening at the top so you can pull out tissues easily. As it is made of metal, this rose gold tissue box cover also protects its content from any potential water or coffee spills.
---
5.
This rose gold desk accessories set comes with 6 different stationeries – a desktop stapler that fits any standard staples, paper clips held in a box, diamond ballpoint pens, binder clips, and a desktop tape dispenser. They are all beautifully crafted in a stunning rose gold color and made of heavy stainless steel that looks classy and sophisticated. Despite so, this entire set costs lesser than you imagine and are great gift for your office colleagues or your teenage daughters.
---
6.
All of our phones are one of our most prized possessions. They are constantly by our side, and we need to dress them up to our favorite style. If your favorite color is rose gold, this rose gold iPhone case will be perfect for you. It comes in a shimmery rose gold color that is both classy and stylish. They are ultra-slim and light on your hands yet provides great protection for your iPhone. It pairs perfectly with the rose gold phone stand above if you are resting it on your desk.
---
7.
Desk lamps are great for those who need to pull an all-nighter either for their work, or their studies. Designed in an industrial style, this rose gold desk lamp fits any medium base lightbulbs between 40 to 60 watts. It comes with an on/off button at the base of the rose gold desk lamp that makes it easy to turn on and shut down the desk lamp. The industrial style geometric design of the desk lamp also makes it seems edgy yet modern and will be a perfect addition to any office or study.
---
8.
If you always have a very cluttered desk, you might consider getting a desk organizer. This rose gold desk organizer comes in a mesh design and has multiple slots for different purposes. It comes with 5 slots for you to store your notebook or papers, pens, and small stationeries, and a mini sliding drawer to store easily lost items. This rose gold desk organizer is great addition to any home desk to declutter your desk quickly.
---
9.
Another great addition to your home computer setup is this beautiful rose gold mouse pad. It is circular in shape and made of leather, so it can undergo long periods of usage before it is subjected to wear and tear. It comes with an anti-slip base so it does not run around when you are using your mouse.
---
10.
If you are like me, who easily lost your post-it notes everywhere, you might want to get this rose gold post-it note dispenser. It can hold the standard 3×3 post-it notes and dispenses one post-it note at one time so you can scribble your ideas on it. It is small enough so you can carry them around in your bag and protect your post-it notes from being squashed.
---
More rose gold office accessories designs:
Or check out our masterpost for other styling inspirations!