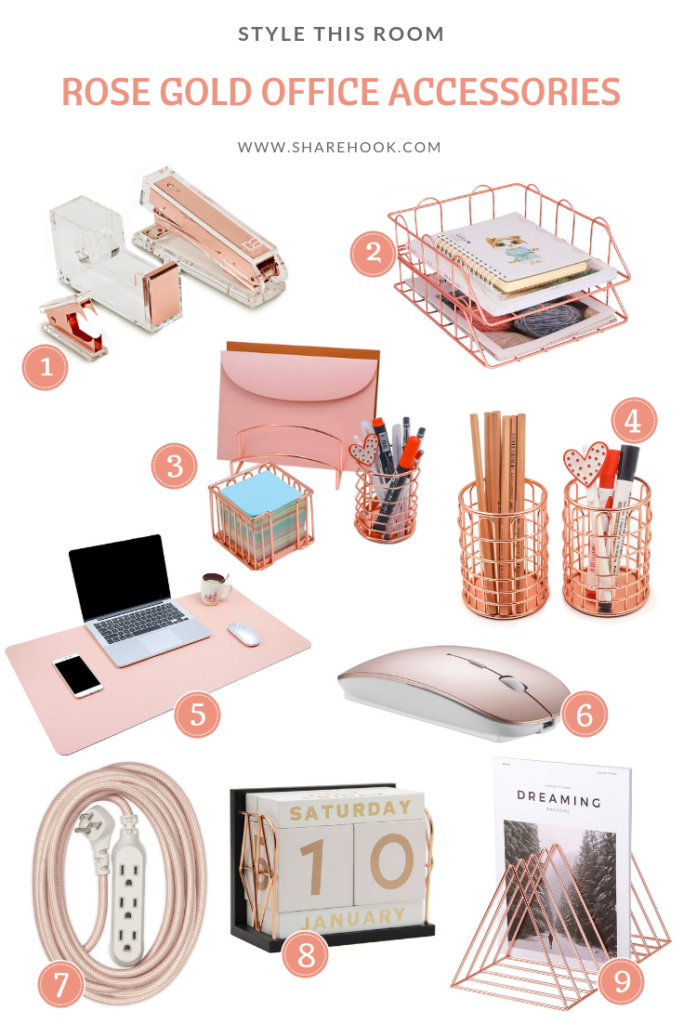 1.
This acrylic rose gold stationery set comes with 3 stationery – a stapler, a tape dispenser, and a staple remover. It comes in a beautiful gift box, which is great for an office gift exchange or for a colleague thank you gift.
---
2.
This stackable tray organizer comes in 2 pieces per set and you can get more if you require more layers. It is made of wire and is anti-corrosion and anti-oxidation, which means a long product life without fear of rust. The edges are quite smooth, so there are no worries about edge cuts too.
---
3.
This rose gold desk set comes with 5 different items – a hanging wall file holder, a letter tray, a mail sorted, a pencil holder, and a sticky note holder. The items are beautifully made and shine prettily when light hits them, making them good to look at and practical to use.
---
4.
Keeping your stationeries together in one place has never been easier with this stunning-looking rose gold pencil holder. Comes in a set of 2, these pencil holders come with a wire design that looks clean and simple. It also comes with a non-slip rubber at the bottom to avoid scratching the table surface.
---
5.
Having an office desk pad is great for many purposes, such as being used as a mouse pad, protecting your desk from small scratches, and separating an office space from your personal stuff. This rose gold office desk pad is pretty to look at and functional to use that is easy to wipe clean at the end of the day.
---
6.
Having beautiful computer accessories to work with will significantly improve your mood and thus, your productivity. This rose gold wireless mouse is wireless and compatible with most computers. It also comes with a silent click that keeps you focus and productive.
---
7.
Extension cords don't always have to be boring and unsightly. This rose gold extension cord comes with a pretty rose gold hue that goes great if you are going for a rose gold theme for your office setup. It comes with 3 outlets, which is more than adequate for your power needs.
---
8.
Sometimes day and night bleed together and you kinda lost touch with reality. To avoid waking up to November when you just barely survive February, a calendar is great to keep you grounded. This vintage wooden block desk calendar is great to remind you of the days as they pass.
---
9.
This adorable triangle rose gold file organizer is great to keep your notes and documents tidy while being beautiful to look at. It comes with 9 slots, so they offer really great compartmentalization to help with storage and organizing. However, they are meant for small or lighter items, and it is not meant to slot in your laptop.
---
More rose gold office accessories designs:
Or check out our masterpost for other styling inspirations!