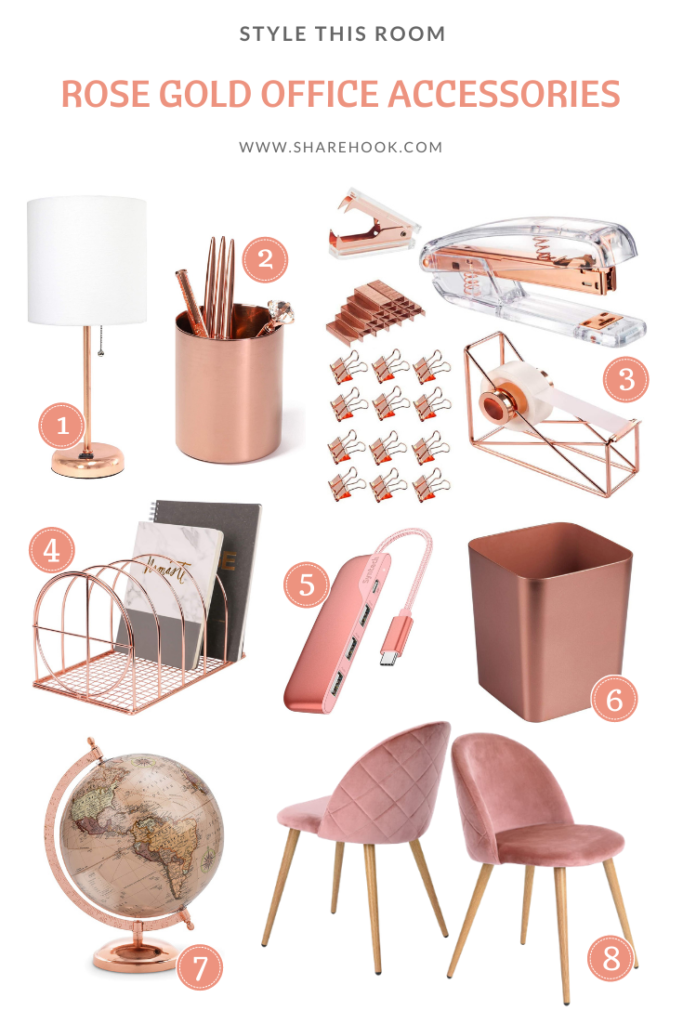 1.
This rose gold table lamp by Simple Designs is absolutely beautiful and minimalistic. It comes with a white fabric lamp and rose gold base that looks stunning either when the light is off or on. The rose gold table lamp can fit a 60 watts bulb, which is bright enough for some evening readings.
---
2.
This rose gold pencil holder is made of metal and looks timeless and amazing. It does not look tacky and you can even use this rose gold pencil holder to double up as a makeup brush holder. If you are looking to spruce up your desk, this rose gold pencil holder is definitely one of the desk accessories to get.
---
3.
This rose gold office supplies set comes with many different rose gold stationery – a stapler, a tape dispenser, a staple remover, staples, and binder clips. Whether you are using it for yourself or gifting it to a colleague, this rose gold office supplies set will definitely make someone's day.
---
4.
If you deal with a lot of paperwork during your work, or even for your personal life, you would find that having a desk organizer on your desk is very useful. To keep them sorted, this rose gold desk organizer comes with 5 slots to keep your files and documents upright. It comes in a unique geometric shape that looks playful, yet simple and clean.
---
5.
If you have a rose gold MacBook, you probably want to get laptop accessories that match. Most USB C hubs perform the same function – providing additional ports to your MacBook. This rose gold USB C hub comes in a beautiful rose gold color and can extend to 3 USB 3.0 ports, that will give you sufficient ports for any keyboards or mouse, or computer accessories you need to connect to.
---
6.
If you are looking for a small trash can to place in your home office to throw away small rubbishes like papers and staples, this rose gold trash can will do the trick. This rose gold trash can is very small and compact and can fit into any tight spaces like underneath your desk or by the printer for easy access.
---
7.
This rose gold world globe functions very well either as an educational tool to teach your toddlers about the geographic location of different countries in the world. It is also great as a fancy decorative accessory if you are looking to dress up your background for your zoom calls.
---
8.
If you are not a fan of office chairs, you may consider getting this comfy and homely padded rose gold chair that fits nicely to your body when you sink in. It is designed to be ergonomic, such that you will not have stiff backs after long hours of sitting, making them great alternatives for office chairs.
---
More rose gold office accessories designs:
Or check out our masterpost for other styling inspirations!