Bathrooms are probably one of the most utilized rooms in the entire house, and yet, they are usually the smallest room in the house. This makes finding spaces and storing bathroom supplies such as cleaning supplies, hair tools, and daily necessities difficult.
If maximizing bathroom space is one of the greatest struggles you face, or you simply have a small bathroom, you are not alone. It was always a disaster for us to manage the bathroom storage, that creativity becomes important on how you can make use of crooks and nooks you never knew existed.
Below, you can find 12 amazing ways that we used to maximize our small bathroom space. Read on the list below and get enlightened!
---
1. Hang your hot tools on adhesive hooks inside a cabinet door
Cabinet doors are actually a great place for adding storage space. You can do so by simply hanging a couple of command hooks in the interior of the cabinet doors. With the command hooks in place, you can now hang all sorts of stuff such as hair styling tools, or even a wire basket to store cleaning supplies.
2. Use a hanging shoe organizer over your bathroom door to store multiple hair tools and products
Over-the-door storage is a classic move in any home decluttering wannabe manual. Over-the-door hanging shoe organizers can be used literally anywhere, from the kitchen to the pantry, and now, in the bathroom.
Simply grab one of these over-the-door hanging shoe organizers, and you can load up all of your bottles and sprays. Best of all, you can get those transparent ones for you to easily view and grab the tools that you need without toppling over different bottles.
3. Hang towels on towel rods behind your bathroom door
Apart from over-the-door hanging shoe organizers, you can instead opt to place over-the-door towel racks instead if you have multiple people using the showers. This gem is great for people with limited bathroom wall space.
With this over-the-door towel rack, you not only can grab your towels easily but also, your towels will also be able to dry faster.
4. Get drawer separators or plastic bins to store small items and makeup products in your drawer
Storing small items such as cosmetics or lotions can be a bitch. They are irregular in shape, and impossible to find when you need them in a rush. To easily organize them, you can turn a bathroom drawer into an organizer by using drawer separators and mini plastic bins.
If you do not have a drawer in your bathroom, you can get these awesome transparent plastic tiered organizers to easily view and grab the lipstick you need without flipping through the entire stash.
5. Use labeled bins or mason jars to easily identify stuff
Mason jars are practically a must-have if you are organizing your small bathroom. They are super versatile and you can easily customize them to any themes or style to match the overall vibe of your bathroom.
Mason jars come with a lid that protects the content from dust or water, and you can use them to store anything, from cotton buds to bath salts. Best of all, they are transparent so you can know what the mason jar contains with a sweep of your eyes. You can easily get more mason jars if you need more storage, and they are compact to keep.
6. Use matching bottles for soap and shampoo to achieve a uniform look
Consistency and uniformity create a clean look. This concept does not just apply to getting the same hangers for your wardrobe. Rebottling your shower body wash and shampoo to identical bottles also helps to maintain a neat appearance in the shower, giving an illustration of tidiness.
If you want to easily identify the content of the bottle, you can get transparent bottles. Otherwise, you could also label them to avoid confusion whilst in the shower. There are also pre-labeled shower bottles to save you the hassle of doing your own labels.
7. Use wire crates or baskets to maximise storage and easy retrieval
Wire baskets are probably one of my favorite bathroom organization tools to maximize bathroom storage. Wire baskets are usually stackable, and you can quickly know what the basket is holding with a quick glance.
Wire baskets also come in multiple sizes and colors, so you can choose the wire basket that fits your needs. On top of all these, they look sleek and blend in really well with any bathroom design that you may have.
8. Install baskets inside a cabinet door for additional storage
Apart from bathroom doors, you can also make more spaces on your cabinet doors. You can get mini versions of the over-the-door organizers with this over-the-cabinet storage basket.
Over-the-cabinet storage baskets are similar to the idea of getting command hooks and a wire basket. But they are simpler. You can quickly hook them up over the cabinet door if you are not big on the idea of sticking a hook to the cabinet door or if you are a renter and do not want the hassle of removing and scrapping the adhesives off the hook.
9. Install tension rod and hooks to hang your cleaning supplies
Tension rods are organizing must-haves that you need to have at your disposal. They are literally used anywhere in the house to create more space and keep things tidy.
Tension rods are great to create layers in your bathroom so you can maximize the full height of the cabinets or the walls. They are especially useful to hang cleaning supplies to make them easily accessible during your cleaning when your hands are occupied.
10. Use tiered shelves to maximize bathroom counter storage
Once you have exhausted the spaces on the bathroom doors, walls, or cabinets, it is time to maximize the space on the bathroom sink countertop.
Instead of placing your bathroom supplies in a single layer on the countertop, you can organize and store them on multi-layer shelves. This allows you to keep more stuff while using the same amount of countertop space. They also make for easy cleaning as you can simply move the entire shelf away if you need to clean your bathroom sink countertop.
11. Bring in a trolley for additional storage
A bathroom trolley is probably the most heavyweight and largest storage accessory on this list. If you have exhausted all options to increase bathroom spaces, but you have extra spaces on the floor by some corner, you can consider getting a bathroom cart.
Bathroom trolleys are amazingly spacious, and apart from creating a generous amount of storage space, they are great to function as a makeshift bathroom countertop if need be. Best of all, they are usually portable, which makes it easy to move around the entire bathroom as you see fit.
12. Add shelving above the toilet bowl to maximize storage
The storage above the toilet bowl is another one of the most under-utilized spots in the bathroom. If you are looking to add some shelving, yet run out of spaces, you can consider adding shelving above the toilet bowl.
You can simply place the over-the-toilet storage rack over the toilet, which means that you are not using any additional spaces in your bathroom except the existing ones used by the toilet bowl. Over-the toilet storage racks maximize the space above the toilet bowl without any drilling, and you can get a good few layers of shelves with no additional floor space used.
---
A clutter-free bathroom helps in ventilation and hygiene. We hope that the above tips help you with your journey to maximizing bathroom space and storage, regardless of whether you have a small bathroom.
If you come across any amazing tips in creating spaces for your bathroom, do share with us in the comments section below!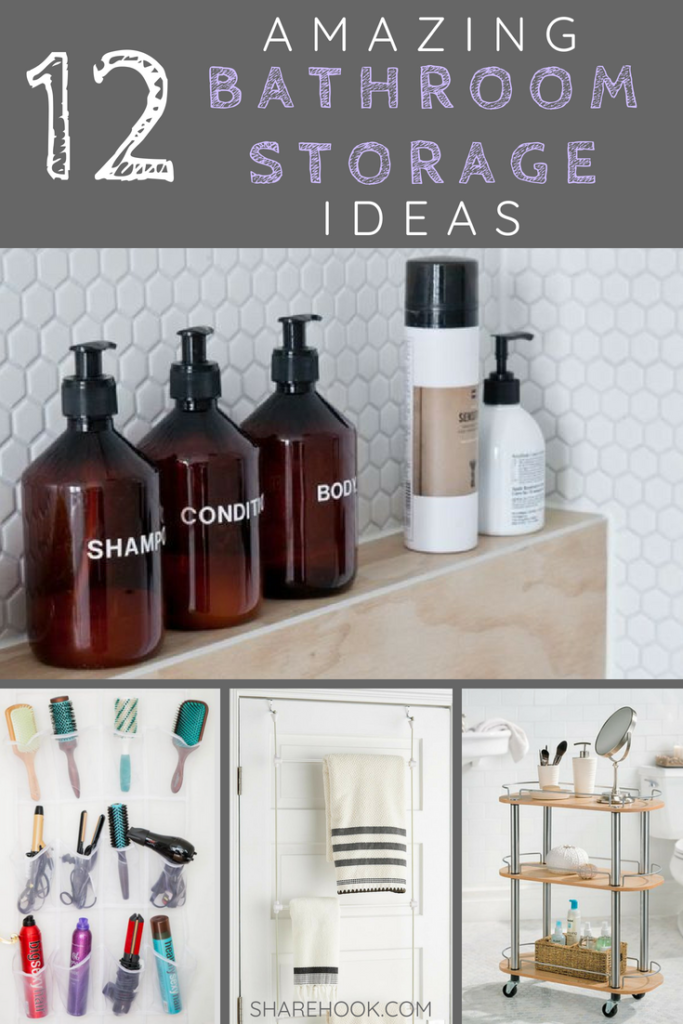 credits: cosmopolitan[1][2] || container store[3] || machenziehoran[4] || littlehouseoffour[5] || interiorjunkie[6] || homebnc[7] || parklandcountryclubhomes[8] || remodelaholic[9] || improvementscatalog[11] || wayfair[12]